Barefootin' from A to Z: AoIP to Z/IP ONE
Jordan Bitz is Chief Engineer for Barefoot Media Ministries, a small Christian radio group headquartered in Boise, Idaho and operating 89.5 KTSY, the heritage Christian radio station in the Boise market, as well as Project 88.7, a Christian Hip Hop station, 88.1 The Bridge in Twin Falls, and a handful of other stations and translators across Idaho and Oregon. In short, Jordan is a busy engineer managing multiple sites over hundreds of square miles.
Before joining Barefoot 15 months ago, Jordan's previous experience was as engineer and programmer at stations in North Dakota, where he hadn't worked much with Audio over IP. While the adjustment to AoIP took some time, once he got the hang of things he's been amazed by the simplicity and flexibility.
"There was a bit of a learning curve," Jordan says. "I'd used a Z/IP ONE before so I knew my way around that because we had a couple in Bismarck, but all the Axia and AoIP gear was completely foreign to me. I came from an analog background."
Barefoot has Element consoles in their studios in Boise and in Twin Falls, and most of their distribution network is Audio over IP using Z/IP ONEs. So, has AoIP made things simpler? "Absolutely! I love that I can control everything remotely down to the boards and the preamps. I can do everything from my phone or my iPad where I am."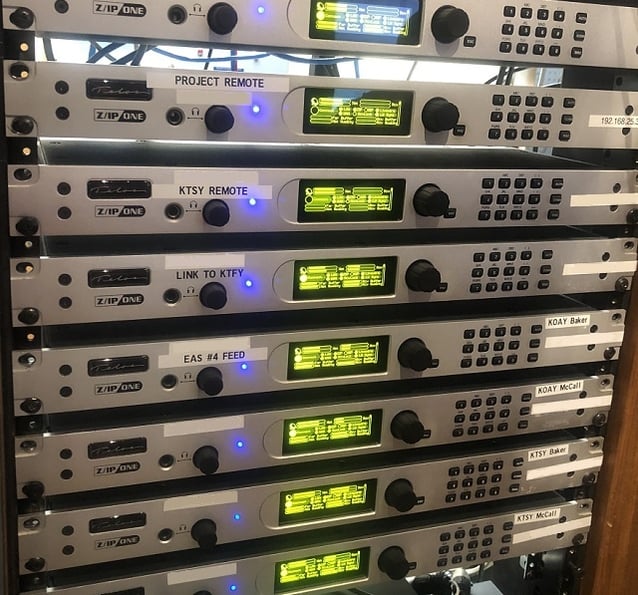 Rack of Z/IP ONEs at Barefoot Media Ministries Boise headquarters
Jordan adds that this comes in handy for remote broadcasts. "If we're out at a remote and I need to change something on a board, I just log in to my computer in the office, load up SoftSurface, and do what I need to do." Jordan can even change what he's sending back to the remote location, if need be.
He and the Barefoot team just love the ability to broadcast on the go with Z/IP ONE. "We have a Z/IP ONE in a case with a mixer, two wireless mics, and a tuner that we can throw in the back of our Suburban and go live with while we're mobile. The Z/IP ONE is hands down the best codec I've used. We use it anywhere we need to get audio from point A to point B." He adds that the Z/IP ONE's use of GPIO makes it even more versatile.
"The Z/IP ONE is hands down the best codec I've used. We use it anywhere we need to get audio from point A to point B."

—Jordan Bitz, Chief Engineer, Barefoot Media Ministries
Barefoot also has a pretty unique IP radio setup using Livewire to help navigate one of the more lengthy studio-to-transmitter hops in their network of sites. Jordan provides the technical details: "We have an 11 gigahertz licensed link that shoots across the market about 30 miles from studio to transmitter. We have about half a gig on that we can utilize for audio, data, backhaul telemetry, or whatever we need, and it's powered with Trango IP Radios and Ubiquiti Edge Routers. I'm able to send Livewire audio across that link with perfect quality."
While Livewire and AoIP were new to Jordan when he joined the Barefoot Media Ministries team, some of the Axia gear was anything but. Despite that, it still runs like a top. "The control surfaces and power supplies we have for our Element mix engines are the original models (the Studio Engines themselves were recently replaced), and they're still running. Occasionally we have to reboot one when it doesn't behave the way it should, but I don't have any concerns."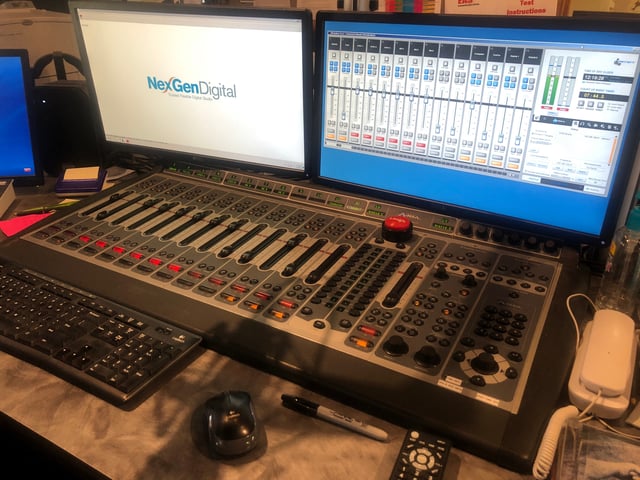 Element console at Barefoot Media Ministries
There are plans for the Twin Falls transmitter site to move to an IP radio with xNodes, and other upgrades will occur as needed. Meantime, Jordan is confident in the flexibility provided by AoIP and Livewire to meet Barefoot Media Ministries' needs. "Everything is rock solid."
Telos Alliance has led the audio industry's innovation in Broadcast Audio, Digital Mixing & Mastering, Audio Processors & Compression, Broadcast Mixing Consoles, Audio Interfaces, AoIP & VoIP for over three decades. The Telos Alliance family of products include Telos® Systems, Omnia® Audio, Axia® Audio, Linear Acoustic®, 25-Seven® Systems, Minnetonka™ Audio and Jünger Audio. Covering all ranges of Audio Applications for Radio & Television from Telos Infinity IP Intercom Systems, Jünger Audio AIXpressor Audio Processor, Omnia 11 Radio Processors, Axia Networked Quasar Broadcast Mixing Consoles and Linear Acoustic AMS Audio Quality Loudness Monitoring and 25-Seven TVC-15 Watermark Analyzer & Monitor. Telos Alliance offers audio solutions for any and every Radio, Television, Live Events, Podcast & Live Streaming Studio With Telos Alliance "Broadcast Without Limits."
Subscribe

If you love broadcast audio, you'll love Telos Alliance's newsletter. Get it delivered to your inbox by subscribing below!