TWiRT 353 - The Beauty and Value of a Bird's Eye View
By Kirk Harnack [TWiRT] on Jun 23, 2017 1:00:00 PM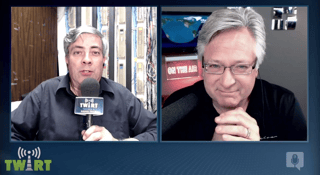 Small Unmanned Aerial Systems or "drones" are quickly getting popular with broadcast engineers and consultants. A bird's eye view can help us better visualize our antenna systems, plus there's real value in catching visible problems before sending a tower crew to troubleshoot.
Chris and Kirk show video examples of aerial tower shots, plus Chris describes bringing Internet access to a Boy Scout camp in New York State.
Hosts:
Chris Tobin, IP-Solutionist
Kirk Harnack, The Telos Alliance, Delta Radio, & South Seas Broadcasting

Show links:
Tower and other aerial videos from Aeroshots.tv
Watch the Video!
Topics: Broadcast Engineering, Streaming Audio, audio, audio quality
Subscribe

If you love broadcast audio, you'll love Direct Current! Get it delivered to your inbox weekly!