Telos Alliance Sneak Peak for BroadcastAsia 2018 | Telos Alliance
By The Telos Alliance Team on Jun 21, 2018 12:00:00 PM
Telos Alliance Sneak Peak for BroadcastAsia 2018
The Telos Alliance will demo exciting broadcast tech at BroadcastAsia 2018 next week in Singapore, where we'll share a stand with the GBS Alliance (#4J2-01) at the Suntec Singapore Convention & Exhibition Centre. Please come join us to see what's next in our ever-growing pure AoIP Livewire+ AES67 ecosystem, important new audio processing updates, and how Telos Infinity breaks the intercom matrix.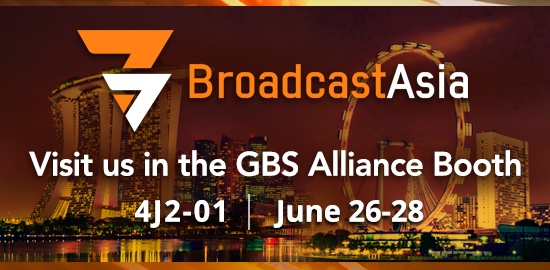 Telos Infinity IP Intercom
Telos Infinity IP Intercom crosses industry lines with useful applications in radio and TV broadcast, not to mention pro AV. In fact, it recently won AV Technology magazine's Best of Show at InfoComm 2018 in addition to other awards from RadioWorld, TV Technology, and TVBEurope. Inifinity is the AoIP solution that reimagines broadcast communication by merging voice communication and contribution audio on a single IT backbone. Employing the latest standards-based VoIP and Livewire+ AES67 AoIP transport, Infinity's matrix-free design offers a quantum leap in scalability, ease of integration, efficiency, and lower cost of ownership over traditional intercom systems. Come by and check it out at stand 4J2-01!
Telos Alliance Radio Highlights
On the audio processing side, key updates to the Omnia.9 and Omnia.11 broadcast audio processors reinforce Omnia's belief that Great Sound Matters Most when it comes to attracting and retaining listeners longer. Omnia.11 v3.5 is a significant upgrade and will be shown to the Asia-Pacific Market for the first time. Among other significant improvements is the new "Pepino" clipper, the latest FM final clipper design from Omnia founder Frank Foti. This improved clipper system suppresses both harmonic and intermodulation distortion as the clipping function is realized. When applied over the entire audio spectrum, it results in cleaner audio without compromising loudness. v3.5 includes several other improvements as well. To learn more and download the free v3.5 software upgrade, visit the Omnia.11 product page.

New Omnia.9 units (shown above) are also now shipping with a major update to the audio engine, making the 9 sound better than ever. New features include a major system rewrite to the audio engine, introducing a new, lower-latency clipper for both FM and AM; a fully rewritten streaming engine; an integrated internal stream server; phase correction with mono bass, which reduces multipath distortion; a shared processing path for AM+HD units; and seamless preset switching, even between presets with major structural differences. This update is available as a software download for existing Omnia.9 users at no charge; to learn more and download, click here.
Demonstrating the power of the Livewire+ AES67 AoIP network, Axia will be demonstrating the RAQ and Fusion AoIP consoles. With Livewire+, which is AES67-compliant (not just compatible), users can seamlessly integrate with Broadcast Bionics' Bionic Studio, which delivers compelling broadcast content via visualization and social media.
While other AoIP broadcast protocols rely on TDM-based systems to work, Livewire operates purely in the AoIP domain, eliminating antiquated, expensive, cumbersome, and hard-to-maintain equipment. Whether a studio demands hardware; virtual, cloud-based broadcast "gear"; or somewhere in between, Axia has the solutions you need. See the demo to learn more about the advantages of the Axia network at booth 4J2-01.
In addition to Infinity IP Intercom, Telos Systems brings powerful broadcast communications tools to BroadcastAsia 2018, including the Telos VX Prime Broadcast VoIP System, a powerful broadcast phone solution economical enough for stations with just two or three studios. With the always reliable Telos Z/IP ONE IP Broadcast Codec, also on display at BroadcastAsia, broadcasters don't have to compromise audio quality for a solid connection. Z/IP ONE helps them get the best possible quality from public IP networks and mobile data services.
Telos Alliance TV Solutions Group Highlights
In addition to the newly available Telos Infinity IP Intercom (see above), Telos Alliance TV Solutions Group will be showing innovative tools for TV broadcasters at BroadcastAsia 2018. These include the Minnetonka AudioTools Server, an enterprise software system for file-based workflows, offers a complete solution for managing and processing linear PCM, Dolby E, Dolby Digital and Dolby Digital Plus content as well as the audio essence in MXF and QuickTime clips. The newest upgrade, v4.5, now includes a new graphical user interface that allows users to quickly create and edit workflows, plus feature enhancements and new processing modules.
Linear Acoustic APTO for OEM will also be demoed, a state-of-the-art loudness processing solution designed to manage loudness levels of both real-time audio streams and file-based assets. APTO simultaneously provides uncompromised audio quality and loudness consistency with full regulatory compliance across all platforms, ensuring the best listening experience for any type of playback environment including DVB, DTT, OTT, radio, gaming, streaming, mobile, and more.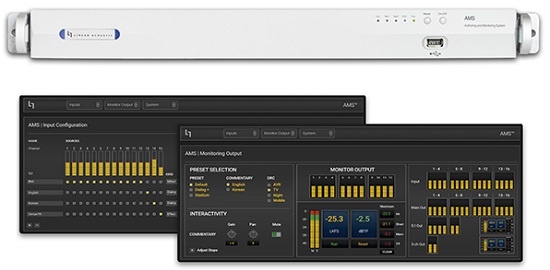 Linear Acoustic AMS (shown above) is the industry's first product for authoring and monitoring immersive 3D audio in compliance with the ATSC 3.0 Digital Television System specification. AMS simultaneously delivers Next Generation audio for ATSC 3.0 broadcasts and 5.1-/2-ch audio for ATSC 1.0 broadcasts. It features Linear Acoustic APTO loudness control to deliver viewer-pleasing audio quality that is also compliant with all loudness regulations.
You Might Also Like...
Audio Tools Server: 2 Minute Look
Telos Alliance has led the audio industry's innovation in Broadcast Audio, Digital Mixing & Mastering, Audio Processors & Compression, Broadcast Mixing Consoles, Audio Interfaces, AoIP & VoIP for over three decades. The Telos Alliance family of products include Telos® Systems, Omnia® Audio, Axia® Audio, Linear Acoustic®, 25-Seven® Systems, Minnetonka™ Audio and Jünger Audio. Covering all ranges of Audio Applications for Radio & Television from Telos Infinity IP Intercom Systems, Jünger Audio AIXpressor Audio Processor, Omnia 11 Radio Processors, Axia Networked Quasar Broadcast Mixing Consoles and Linear Acoustic AMS Audio Quality Loudness Monitoring and 25-Seven TVC-15 Watermark Analyzer & Monitor. Telos Alliance offers audio solutions for any and every Radio, Television, Live Events, Podcast & Live Streaming Studio With Telos Alliance "Broadcast Without Limits."
Topics: ip intercom
Subscribe

If you love broadcast audio, you'll love Telos Alliance's newsletter. Get it delivered to your inbox by subscribing below!