Building the Transmission System at One World Trade Center - TWiRT Ep. 371
By Kirk Harnack [TWiRT] on Nov 10, 2017 1:00:00 PM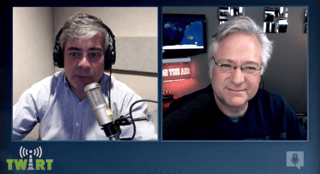 There are myriad perspectives from which to view One World Trade Center's rebuilding after the tragedies of 9/11. From the broadcast perspective, 2017 marks a notable milestone – the resumption of television transmission from atop One WTC. The latest transmitter and antenna technology is now deployed at One WTC, the tallest building in the Western Hemisphere at a symbolic 1,776 feet in height; it has resumed broadcast operations as one of the world's elite broadcast centers. John Lyons, Director of Broadcast Communications at The Durst Organization, leads a presentation focusing on this new, premiere, RF transmission facility.
Hosts:
Chris Tobin, IP-Solutionist
Kirk Harnack, The Telos Alliance, Delta Radio, & South Seas Broadcasting
Follow TWiRT on Twitter and on Facebook
Watch the Video!
Topics: Broadcast Engineering, Streaming Audio, audio, audio quality
Subscribe

If you love broadcast audio, you'll love Direct Current! Get it delivered to your inbox weekly!