Catching the "Spirit" of Audio over IP
It takes brass to plunge headlong into an unfamiliar technology.
Chris Cottingham, CE at CRISTA Broadcasting's KFMK-FM in Austin, Texas, has that sort of spirit. Which is why he took on the task of updating his station's studios from analog to IP Audio without having laid hands on networked studio gear before.
Starting out in 1998 as a Rhythmic Oldies station owned by Clear Channel, KFMK became a Contemporary Christian formatted station in September 2010, rebranded "Spirit 105.9." At first, Spirit 105.9 broadcast from temporary studios located at Austin's Univision facility. "Univision had Axia consoles," recalls Cottingham, "and that was our introduction to the Element. We liked what we saw, and that drove our purchase decision for two Element consoles, Telos Nx6 and Nx12 phone systems and a Zephyr Xstream ISDN codec."
Audio over IP: Bringing New Meaning to 'Wireless'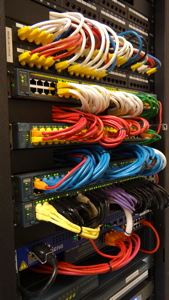 Chris joined the Austin operations as chief engineer in February 2011, just as the construction phase of the move was about to begin. "I had a good background in analog broadcast and computer networking, but I hadn't done AoIP, so I was looking forward to the challenge."
His first surprise came when cable was being pulled for the three-studio installation. "There was about one-tenth the wiring normally used for an analog studio buildout! I soon realized that I wouldn't be spending hours under counters with a punch block tool. It was a good feeling."
Documentation is different with AoIP, too. "The emphasis is no longer on signal flow from inputs to outputs as it is with analog, because the signal can go anywhere," remarks Cottingham. "Rather, the focus is on where everything is located." Chris uses an Excel spreadsheet to track port designations. To help make it even easier to know which network cable goes where, he had them all color-coded.
Chris' next revelation came as his Element consoles were installed and being configured. "All of the inputs and outputs are virtualized. And using an Axia analog xNode, I was able to connect our legacy console into the system. It's all really a matter of sitting at a Web browser and assigning ports. You can create any numbering system that works for you." Using xNodes, the analog console and its related gear were integrated into the Axia system, so that it could be ready for use if needed.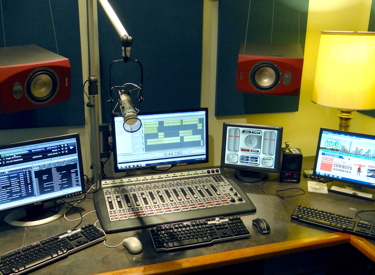 "That was another first," recalls Cottingham, "relegating an analog system to 'extreme backup' status."
You can't run a broadcast AoIP system without robust Ethernet switches, and Axia provides clients with a list of approved network gear. Just for fun though, Cottingham decided to try a test: "I connected everything into a cheap switch that I had on hand. It crashed after about ten seconds! Multicast traffic is so intensive, even with our relatively small system of two Element consoles and related gear, that you really need to pay attention to the networking foundation." Cottingham tells us that monitoring the traffic on his gigabit network shows average throughput of around 200 megabits.
Customized Audio Networking
Chris soon discovered that he could create any sort of control function imaginable with PathfinderPC routing control software, a rich set of software tools Axia clients use to script custom routing commands for Axia networks. With Pathfinder, Cottingham created a "virtual switcher" to toggle studio and automation feeds to the STL, as well as control phone and on-air tally lights. With fairly basic scripting in Pathfinder, he was also able to design a silence sensing alarm that sends e-mails and text messages and activates warning lights if there's ever more than ten seconds of dead air.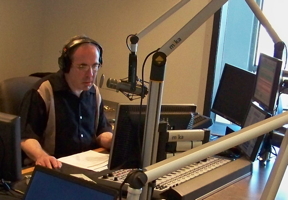 Another Axia feature Cottingham has come to appreciate is remote access. "This is huge; it means I can do everything from home. If there is a problem, I don't need to drive into the station to get it resolved. All the backups are available through the Web browser." He adds that while complete backup systems are available with analog systems, they require a lot of extra infrastructure.
Maintenance chores have also been reduced. "Analog boards drift, and regular checks are needed to maintain reference levels and left-right balance. With the new system, as long as you've built in enough headroom when you set everything up, life is wonderful."
Reflecting back on his first Axia install, Cottingham has this advice for those taking their first dip in AoIP waters: "You need to think about the infrastructure in a totally different way. In analog, the complexity was usually in the hardware, but nowadays the difficult tasks are handled with the software."
Telos Alliance has led the audio industry's innovation in Broadcast Audio, Digital Mixing & Mastering, Audio Processors & Compression, Broadcast Mixing Consoles, Audio Interfaces, AoIP & VoIP for over three decades. The Telos Alliance family of products include Telos® Systems, Omnia® Audio, Axia® Audio, Linear Acoustic®, 25-Seven® Systems, Minnetonka™ Audio and Jünger Audio. Covering all ranges of Audio Applications for Radio & Television from Telos Infinity IP Intercom Systems, Jünger Audio AIXpressor Audio Processor, Omnia 11 Radio Processors, Axia Networked Quasar Broadcast Mixing Consoles and Linear Acoustic AMS Audio Quality Loudness Monitoring and 25-Seven TVC-15 Watermark Analyzer & Monitor. Telos Alliance offers audio solutions for any and every Radio, Television, Live Events, Podcast & Live Streaming Studio With Telos Alliance "Broadcast Without Limits."
Topics: IP Audio Network Routing & Control, Axia Audio, Telos Systems, Radio Consoles
Subscribe

If you love broadcast audio, you'll love Telos Alliance's newsletter. Get it delivered to your inbox by subscribing below!