Vintage Tech: Cathode Ray Tubes and a Buick Straight-8
By Tom Vernon on Feb 10, 2012 6:56:00 PM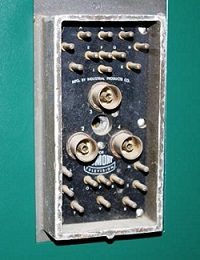 If you've been reading our content long enough, you know that we love old broadcast tech. There's nothing like watching something made in the Streamline Moderne era make broadcast media from, as Spock once opined, "stone knives and bearskins."
So if the plug array on the right looks arcane and antediluvian to you, it will come as no surprise to learn that it's a television camera connector... mounted on a Telecruiser. That's a 30-foot Flxible Clipper bus outfitted as a TV mobile unit, and it was built for the Dallas-Fort Worth CBS affiliate, KBTV-8 (later WFAA-TV), in 1949 by the DuMont Corporation. This particular Telecruiser is in the process of being refurbished and outfitted with vintage TV gear as part of Chalk Hill Educational Media's Virtual Broadcast Museum, in Chalk Hill, Texas. Check out the story of the Golden Telecruiser and photos of its restoration process at www.telecruiser.com, and snuggle up to the warm glow of the CRTs and sync generators.
Topics: Technology
Subscribe

If you love broadcast audio, you'll love Direct Current! Get it delivered to your inbox weekly!