Axia enters Pop Culture
By Tom Vernon on Mar 21, 2014 10:28:00 AM
A console on your smartphone?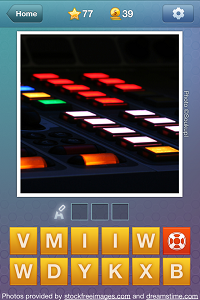 Well, not exactly. But pretty close! Addison Burnside, student Assistant Engineer at the East Valley Institute of Technology's KVIT found that Element consoles have crossed over into pop culture - or at least to stock photo houses.
Addison writes: "This is a game for the iPhone called What's the Word. One of the jocks came into my room and said 'Is this the same thing we have?'" And so it is; it's an Axia Element console vignette showing a couple of faders and several SmartSwitch modules, illuminated in a darkened studio. We're not sure what facility the photo was taken in, but with 4,500 Axia consoles now on the air, there are a lot of potential choices!
Topics: Axia Audio
Subscribe

If you love broadcast audio, you'll love Direct Current! Get it delivered to your inbox weekly!