Controlling an Axia Element console remotely with SoftSurface
By Clark Novak on Mar 29, 2013 4:52:00 PM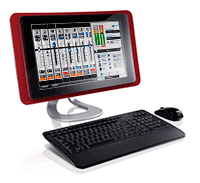 A client wrote us with this question: "I have a remote coming up and I would like to use SoftSurface in the field to control my Element studio console. Is this possible? If so, what port forwarding is needed at the studio?"
Axia software developer Oleg Krylov writes back: "To remote-control an Element from the field using SoftSurface, you need to open (forward) TCP port 2111 in your firewall or router. Nothing else is required."
One other note: SoftSurface can remotely-control any Element console, with either the PowerStation integrated console engine, or the Axia StudioEngine DSP mixing engine. But SoftSurface can also be used to create a "virtual console" by remotely-controlling a StudioEngine directly, without any physical Element console attached - great for small studios or OB vans - anyplace a full console is needed but space is minimal.
Topics: Axia Audio
Subscribe

If you love broadcast audio, you'll love Direct Current! Get it delivered to your inbox weekly!