TWiRT 361 - Custom Multi-Casting with Marcos O'Rourke
By Kirk Harnack [TWiRT] on Aug 26, 2017 1:00:00 PM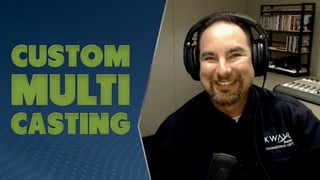 We're live from KWAVE Radio in Santa Ana, California. KWAVE runs similar, yet thoroughly customized programming in 3 different markets - San Diego, Los Angeles, and Las Vegas. The various interconnections use several different forms of Studio-Transmitter Links. Marcos O'Rourke joins us to talk about the challenges and solutions. Plus, Chris and Kirk talk about the recent total solar eclipse.
Hosts:
Chris Tobin, IP-Solutionist
Kirk Harnack, The Telos Alliance, Delta Radio, & South Seas Broadcasting
Guest:
Marcos O'Rourke, Chief Engineer - KWVE-FM, Santa Ana, CA
Show links:
Follow TWiRT on Twitter and on Facebook
Watch the Video!
Topics: Broadcast Engineering, Streaming Audio, audio, audio quality
Subscribe

If you love broadcast audio, you'll love Direct Current! Get it delivered to your inbox weekly!