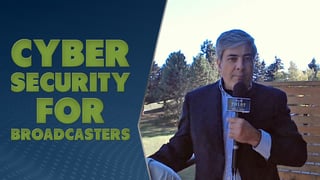 Chris Tobin is speaking at the Central Canadian Broadcast Engineering conference (CCBE) in King City, Ontario, Canada. He joins the show from the relaxing Kingbridge Conference Center. We're discussing CyberSecurity for Broadcasters - what we learned from a recent expert panel discussion in Columbus, Ohio. And a first look at troubles with the National EAS Test.
Show links:
Practical CyberSecurity for Broadcasters (Notes from our Expert Panel Discussion)
NAT Router Security Solutions (Tips and Tricks)
Ultra High Entropy Password Generator (probably over-the-top)
How Good is Your Password? (GRC's Password Haystacks)
Criminal Justice Information Services - Security Policy (PDF)
Benchmark your DNS (and others you're considering)
Hosts:
Chris Tobin, IP-Solutionist
Kirk Harnack, The Telos Alliance, Delta Radio, & South Seas Broadcasting
Follow TWiRT on Twitter and on Facebook
Watch the Video!
Topics: Broadcast Engineering, Streaming Audio, audio, audio quality
Subscribe

If you love broadcast audio, you'll love Direct Current! Get it delivered to your inbox weekly!