Dougall Media hears IP-Audio Thunder
By Tom Vernon on Oct 23, 2013 1:26:00 PM
It's not about the network -- it's about how you can use it
Thunder Bay Ontario is best known for its great outdoor adventures, Fort William, and the Founders Museum.It is also home to Dougall Media, owners of several television, publishing and radio holdings in Northwestern Ontario, including stations: 91.5, CKPR; 94.3, "Rock 94"; and 104.5 CFQK, "The Thunder."
For their recent studio build, Dougall Media chose Axia IP-Audio networking. "Before Axia, we had older analog consoles in our stations," notes David Turecki, a radio technician for Dougall Media. "We knew we wanted to switch to IP audio, and decided to do it right the first time.There were already three Telos Nx12 talkshow systems in-house, and we knew they would integrate well with Element consoles."
Another selling point for Turecki was Axia integration with AudioVAULT automation systems. The use of IP audio drivers eliminates the need for bulky sound cards and extra wiring. Yet another was flexibility: "Our media groups at Dougall share both human and physical resources. We need to make changes very quickly, and Axia enables us to re-route and re-configure audio sources and profiles on the fly." Little did he know how that flexibility would soon be put to the test!
Element consoles, mix engines and associated Axia gear was purchased to outfit all three stations. The first project was CFQK. According to Turecki, the physical installation took almost no time; with CAT-6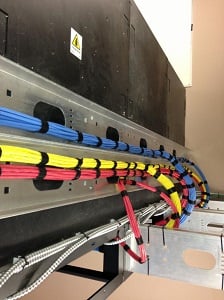 cabling and an IP infrastructure, there's very little wiring to do. Turecki used two analog and two digital Axia Audio nodes, four IP-Audio drivers and four Nx12s in the installation.
"Being able to set up the Element consoles over a web browser is a huge advantage," notes Turecki. Previously, he had to lug all of his notes and documentation to the studio when doing installs. Now, he can sit in his office with notes at hand while developing Show Profiles for the studio consoles. When questions about creating profiles and other matters came up, he was pleased with the response from Axia's 24/7 Tech Support. "Their team was there for us every step of the way."
Axia's IP-Audio Networking implemented for TV audio
Turecki had configured the console for CFQK's requirements, and was doing final testing when fate intervened. "The TV guys stopped by," he recalls. "They were in the midst of a DTV conversion, and wondered if our new console could be 'borrowed' for six months and made to work for TV audio. I figured there was only one way to find out." So Turecki created another profile for the Element that met the needs of the TV side exactly.
"Most of what [TV] needed was very different than [radio's] requirements," he adds. "All the mics were run by a single group channel, and the muting and IFB systems were also quite different." At the end of six months, TV returned the board, Turecki recalled the profile he had created for radio, and was good to go for the install.
Multiple Audio Profiles save the day
But the adventures for CFQK and their new Element still weren't over. "We had the console installed in the new studio," recalls Turecki. "It wasn't on air yet, but we were doing staff training. There was a failure in one of our other stations, and we had to use the new studio as an emergency backup for a few hours." Turecki quickly created yet another profile for the distressed station, and saved the day again.
Finally, things settl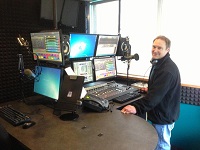 ed down to normal, or as close as one can come to normal in a radio station. The training was over, and the Element was functioning in its originally-intended application. Feedback from the on-air staff was immediate and positive. "Everyone just loves the Element," Turecki says. The Talkback function allows talent to talk to callers even when they're on hold, and their four studio mic positions are all able to talk back to guests separately.
With the first Element project under his belt, Turecki looks forward to the second install at CKPR . It should go a lot smoother, not only because of his experience with the first studio, but because of all the Axia nodes already installed. "All of our workstations are connected to IP drivers, and much of our analog source equipment throughout the station is tied in to Axia nodes, making it accessible to all the Element consoles that we add in the future."
"Radio is spontaneous and equipment has to be flexible," Turecki says. "In the first few months that we've had the Element, it's handled everything we have thrown at it."
Topics: IP Audio Network Routing & Control, Axia Audio, Telos Systems, On-Air Talk Show Systems
Subscribe

If you love broadcast audio, you'll love Telos Alliance's newsletter. Get it delivered to your inbox by subscribing below!