Dozens of Audio Streams; Complete Control
By Tom Vernon on Aug 23, 2013 1:32:00 PM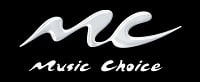 Music Choice, the multi-platform video and music network, delivers its music programming to millions of consumers nationwide through their televisions, online and mobile devices. Last month, they expanded their services when they launched their first Android app, currently streaming 46 channels, live! And guess what: all of the Music Choice channels are streamed with Omnia A/XE encoding and processing software.
A Music Choice's spokesperson notes that, after considering several streaming systems, Omnia A/XE was the clear choice. "It has integrated well with our audio playout system. The audio quality is outstanding, and comparable to what is available from our leading providers. Since it is software-based, it also turned out to be the most cost-effective solution." Omnia A/XE is a stand-alone software signal processor and MPEG encoder (MP3 and AAC). It doesn't require a dedicated PC hardware card to operate, instead using the host processor inside the computer.
Manage Multiple Audio Streams with Ease
User-friendly configuration and setup also earned praise from Music Choice. Through the main control panel screen, users can access all audio processing and encoding instances, the audio meters and processing presets assigned. Users can also create additional audioprocessing or encoder instances, delete existing ones, and start or stop individual instances.
Music Choice also uses Omnia A/XE to insert metadata, using the UDP port. What makes their application unique is that the data is inserted using proprietary techniques so that it can be read by their mobile apps and website - but not by other players. A/XE can accept just about any metadata format, from simple, line-based messages to XML messages and anything in between. Included with the software is a set of metadata filters which can be further edited and customized by users.
With 46 streams, Music Choice is one of the largest users of Omnia A/XE. To insure uninterrupted service, they maintain primary, backup and test systems. Since A/XE works in the background as a Windows service, it has no visible user interface - it's configured and managed via web browser, from any computer that can connect to the A/XE host PC.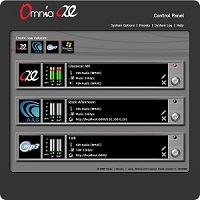 With so many streams running simultaneously, quality control is important. "We use A/XE's log files for troubleshooting issues," says the Music Choice spokesperson. "We also rely on third-party monitoring tools to check for glitches and outages." Omnia A/XE writes system messages to log files. A new log file is created for each 24 hour period. Users may retrieve log files through the web interface, or directly from the PC on the directory where they are stored, and A/XE sends an e-mail in the event of an application error.
The Omnia A/XE: for audio streaming over Web and Mobile
Music Choice uses many audio streaming protocols for their Web and Mobile products. Again, Omnia A/XE was a great fit, thanks to its support for ShoutCAST-compatible servers, including ShoutCAST v2, ICEcast, Adobe Flash Media server, Wowza, Live365 and Windows Media Server, delivering audio with a wide variety of codec options: MP3 (from 8kbps, 11025 Hz mono to 320kbps, 44100 Hz stereo) Low complexity AAC (AAC-LC) and high efficiency AAC (HE-AAC).
Not everyone has so many channels of streaming audio to manage, but Omnia A/XE is so affordable it's within nearly everyone's price range.
Topics: Streaming Audio Processing Encoders, Omnia Audio, Audio Technology
Subscribe

If you love broadcast audio, you'll love Direct Current! Get it delivered to your inbox weekly!