Finding Your Path with Axia
Remember that old Craftsman toolbox in your basement? Some of you may break it out every day or every weekend. For others you have to wipe off the dust and break out the manual when that construction task comes due. Axia has its toolbox too: the PathfinderPC Routing Control system. And after 15 years of projects our toolbox has grown to the audio version of the New Yankee Workshop.
The History
Almost 20 years ago when Axia was still a gleam in the Telos Alliance eye there was a little project started to consolidate a number of differing routing technologies into one contiguous interface. That was the birth of what today is known in broadcast facilities around the world as PathfinderPC. Today it has grown into a suite of applications with the goal of producing a set of tools to get the job done – whatever that job may be.
Experience
It is not uncommon for professional carpenters to create their own tools – such as custom jigs. These tools make a master craftsman's job easier. And it is only through time and experience that these tools are perfected. In the early days of Pathfinder's development and integration with the Axia product line, we learned that every install is unique and therefore requires some level of customization. At first we answered these needs with a powerful scripting language and designed scripts for our customers to answer these needs in unique and clever ways.
But 15 years of experience at thousands of station facilities has proven that we need to make the customization as easy as possible. The customer has to be able to understand, own, and make changes to their system. Scripting, while powerful in the correct person's hands, is often beyond the abilities of many customers and can leave new employees at a loss as to how the system works and how to make changes to it. We want our customers to understand and own their systems.
So, like the master carpenter, we started creating tools (our jigs) for making this job easier - then made these tools available as part of the product. Whenever we come up against a new challenge, we ask ourselves if this is something that would be needed by other customers, and then we figure out how to make that functionality available in a simple-to-use fashion. This is how experience grows the toolbox to make any job easy.
The Jig is Up
A discussion of everything PathfinderPC can do is beyond the scope of this article. However we would like to point to a few of the many abilities that make the Pathfinder product unique and indispensable, and a few examples of how some of our customers have used its functionality.
Virtual Routers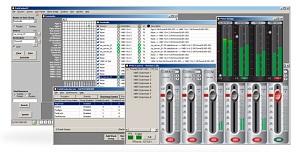 Ever since the advent of the PathfinderPC routing system, we have had the concept of "virtual routers". A virtual router allows the customer to present custom subsets of the inputs and outputs available in a system so a user may be presented with only the IOs that are important to them.
However, virtual routers go further. They allow you to tie multiple sources into a single virtual source and multiple destinations into a single virtual destination. When route changes are made on this virtual router, all of the sources tied to that virtual input or output get routed.
Why is this important? Many customers use this to tie inputs and outputs from different routers together. For example you can create a router that routes both GPIO and audio together. But another good use is for primary and backup signals. You can easily create a router where each crosspoint routes a primary audio signal and a backup signal to the corresponding primary and backup destination.
Adding Protocol Translators
Another powerful feature in Pathfinder is protocol translators. This allows Pathfinder to talk with automation systems in the language the automation system understands. One of our customers recently built a facility with over 400 AoIP nodes, carefully crafted for redundancy with multiple signal streams for virtually every audio path. They were able to create a virtual router where every source and destination simultaneously makes changes to both the primary and backup audio stream. They then assigned this virtual router to a protocol translator that spoke a common routing language. The automation system could then address this router as if it were any other hardware router.
The automation system does not need an understanding of what it is controlling because Pathfinder is translating for it. However, not only is everything totally configurable, but the automation system is actually routing redundant paths with every route change request. It sends a single route change request for a crosspoint and Pathfinder handles all of the redundancy routing and reports back success or failure. In addition since both the automation system and pathfinder has redundancy built in, the aforementioned customer was able to create seamless redundancy of the Automation, Pathfinder, and the audio paths. This has allowed them to control a 400+ device system which the automation system knows nothing about. This combination of power, flexibility, and redundancy was not previously possible.
Another useful tool in protocol translators that has been widely used is the generic protocol translator. This allows customers to send a message via serial, tcp, or udp to and from the Pathfinder System and make Pathfinder act upon that message, providing flexibility of control.
Coming soon: Part Two of this exploration of Pathfinder, where Dan explains Stack Events and designing your own panels.
Telos Alliance has led the audio industry's innovation in Broadcast Audio, Digital Mixing & Mastering, Audio Processors & Compression, Broadcast Mixing Consoles, Audio Interfaces, AoIP & VoIP for over three decades. The Telos Alliance family of products include Telos® Systems, Omnia® Audio, Axia® Audio, Linear Acoustic®, 25-Seven® Systems, Minnetonka™ Audio and Jünger Audio. Covering all ranges of Audio Applications for Radio & Television from Telos Infinity IP Intercom Systems, Jünger Audio AIXpressor Audio Processor, Omnia 11 Radio Processors, Axia Networked Quasar Broadcast Mixing Consoles and Linear Acoustic AMS Audio Quality Loudness Monitoring and 25-Seven TVC-15 Watermark Analyzer & Monitor. Telos Alliance offers audio solutions for any and every Radio, Television, Live Events, Podcast & Live Streaming Studio With Telos Alliance "Broadcast Without Limits."
Subscribe

If you love broadcast audio, you'll love Telos Alliance's newsletter. Get it delivered to your inbox by subscribing below!