Found in the Attic: ATC-Collins P-190 Cart Machine
By Tom Vernon on Apr 1, 2014 12:00:00 PM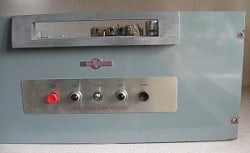 This visit to the attic not only reveals some great radio gear of days gone by, but a story that's the stuff of legend.
At the 1959 NAB convention in Chicago, the ATC/Collins 'P' series of tape cartridge machines was the hit of the show. No one had seen anything like it before, and for the next three decades, whether for commercial spots, jingles or music, radio ran on cart machines. It can safely be said that the fast-paced 'Top 40' format of the 1960s would not have been possible without tape cartridge technology.
But did you know the premiere of the cart machine was almost a disaster? But first, some background on the technology of these fabled machines…
The Cart Machine Turns 55
To celebrate the 55th anniversary of that historic NAB premiere, we dust off an ATC/Collins P-190 cart machine. By today's standards, it was a simple device; playback and cue amps were built on modular plug-in boxes, each with two tubes, and a simple head stack with program and cue heads connected to the amps with short RCA cables.
A Viking transport with a 1/75th horsepower sync motor was connected to a flywheel via three O-ring drive belts, running at 7 ½ ips. The tape drive solenoid and linkage were mounted on the right, a rotating spring-loaded cross shaft held the pinch roller, and logic and control were accomplished with 24-volt P&B plug-in relays. With slight variations, this transport design would be used by most cart machines for the next decade.
The first ATC/Collins machines came in two models – a 15" countertop and 19" rack-mount. All equipment was mono, and playback was available with single-tone and dual-tone cue amplifiers. Contact closure from the secondary cue tone could be used for signaling EOM or other automation functions; record electronics had similar options.
Early Cart Technology Both Boon and Bane
At the time, cart machines represented a great leap forward from the days when radio was completely live. But life wasn't always easy with this new technology. Those early gray carts were made of plastic that would warp in sunlight, and graphite rods embedded in the turntable to lubric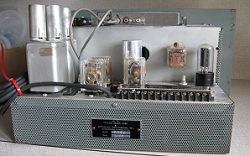 ate the tape would break loose if the cart was dropped; pressure pads would also come loose, or the foam would deteriorate; the top screw would loosen or disappear altogether. Simply maintaining the carts themselves could keep a production staff busy.
Then there was the head stack. Those on the early mono machines like the ATC required a crescent wrench to adjust head azimuth. The oversize hole that the head mounted to the block with enabled the head to be adjusted for height… sort of. By the time the height was OK, azimuth was off. Tightening the nut that held the head to the block could throw everything off again. Early tape transports had their own set of issues. All had belts and flywheels, and required ongoing maintenance. A regular schedule of lubrication, cleaning, replacing belts, pinch rollers and making solenoid adjustments was part of a chief engineer's regular duties. The good news was that these early cart machines were simple devices, and it didn't take long to round up the usual suspects and get them back in order.
By the early '90s, as digital recording technologies were gaining acceptance, cart machines had evolved into precision devices. Head stacks, transports, electronics, and even the tape cartridges were all built to high tolerances. Stereo carts were widely used for music playback, and some recording machines were even able to bulk-erase the cart and locate the splice, taking much of the tedium out of radio production.
The machine pictured was discarded at a college radio station. It was in good working condition until just recently, when the power transformer developed a short. Once located, the replacement will be installed.
In 1958, Bloomington, IL-based ATC (Automatic Tape Control) co-founders Ted Bailey and Jack Jenkins began shopping for partners to distribute their new invention (the company only existed on paper, with no marketing or manufacturing facilities). First they went to Gates Radio Company, but they were about to unveil their own automated tape solution – the ST-101 – so they said no. Next, the duo reached out to Collins, and a deal was struck in January 1959, with plans laid to unveil the machine at NAB.
Production Partnership nearly leads to Disaster; Crisis Averted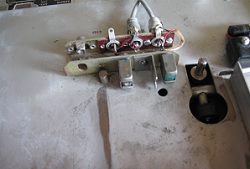 Ramping up for NAB was a huge undertaking, so the workload was distributed among three companies. Moulic Specialties, who built background music equipment, assembled the machines with Viking decks and Big Linear solenoids. ATC, now with modest manufacturing capabilities, assembled the modular playback and cue amps. Finally, Collins built the enclosures. It seemed like a good idea at the time…
Unfortunately, just before the show, trouble surfaced. Working on a tight deadline, the machines, electronics and cases were all shipped separately to Chicago, and assembled for the first time. But the Collins-built enclosures had no ventilation, and it wasn't long before the tube-based electronics inside overheated and diodes began to short out. Faced with a potential disaster, engineers pulled an all-nighter to replace diodes, and by the opening day at NAB, they were ready to go.
Thanks to these dedicated engineers, interest in the new invention exceeded anyone's wildest expectations. Now Bailey and Jenkins had a new problem: how to fill the orders from 45 radio stations totaling over $100,000! The rest, as they say, is radio history…
Topics: Vintage Radio Technology
Subscribe

If you love broadcast audio, you'll love Telos Alliance's newsletter. Get it delivered to your inbox by subscribing below!