Found in the Attic: Atwater Kent Model 84
By Tom Vernon on Jun 28, 2017 12:00:00 PM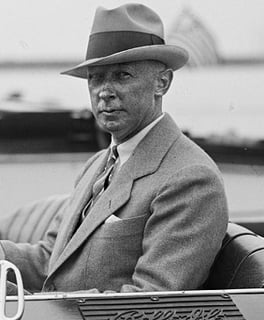 From the dawn of broadcasting in the early1920s through the mid-1930s, the name Atwater Kent was synonymous with top-quality radios. Their commitment to excellence, in both cabinet construction and electronic assembly, is one of the reasons so many of their sets are still around and in working condition. There are several A-Ks in the attic, but none have been featured in FitA. Until now. This month, the 1932 Model 84 will be showcased, along with a history of the man and his company.
Although the name Atwater Kent is synonymous with radio manufacturing in Philadelphia, the company's founder was a New England native. Born in Burlington, Vermont in 1873, Arthur Atwater Kent's family moved to Worcester, Massachusetts in 1881. Young Arthur's father was a doctor who had a well-stocked machine shop, and he soon developed an interest in all things mechanical.
Kent took the next logical step, beginning his formal education in mechanical engineering at Worcester Polytechnic Institute in the fall of 1895. Despite the practical experience and strong interest in mechanical things, the academic environment did not work well for young Kent. He struggled to maintain his grades, and enrolled and dropped out of WPI twice, never completing a degree. Apparently this experience didn't leave him feeling bitter towards institutional learning, for he later received an honorary Doctorate from WPI, and served as a member of their board of trustees from 1926-1931. One of the electrical engineering buildings at WPI is named in his honor.
While he was still enrolled, he started and ran a small home business, the Kent Electric Manufacturing Company. It made generators, motors, fans and automotive ignition systems, and operated from his father's machine shop. But Kent didn't just manufacture electric and electronic devices; he also invented them. Over his career, he had a portfolio of 93 patents, most notably for the automotive ignition system that was the industry standard for over 50 years.
Kent's business soon outgrew the home machine shop, and that's when he made the move to Philadelphia. Operating out of a small loft, the Atwater Kent Manufacturing Works started out building batteries, and soon expanded to other electrical components for the automotive industry. It was at this time that he developed and patented his Uni-Sparker ignition system, leading to massive growth for the company. Existing space was quickly outgrown, and a larger factory was secured in Philadelphia.
Growth continued with government contracts during World War I, along with increased demand from the automotive market, but new ventures were also launched. In 1921, Kent began selling breadboard receiver kits with components that he designed and manufactured. Sale of complete radios began in 1922. The company's sales continued to grow, and soon, it was time for another move.
Atwater Kent moved to its final location at 4745 Wissahickon Avenue on the north side of Philadelphia in 1924. The original factory covered 15 acres, but gradually expanded to 32. The following year, they became the largest manufacturer of radios in the United States, maintaining that position until they were cranking out over one million receivers in 1929.
The stock market crash of 1929 put a damper on the demand for high-end radios, and sales lagged, but Atwater Kent was not hit as hard as other manufacturing companies. Always a shrewd businessman, Kent had built and maintained his company as a privately-held venture, with no stocks trading on the market. He had financed the company's growth through its own profits, and thus had no outstanding loans when the market tanked. Despite cost-cutting measures, sales continued to fall. This, combined with attempts to unionize the company's workforce, led Kent to a decision to close the factory in 1936. The factory was quickly acquired by A-K's competitor, Philco, who used it to manufacture refrigerators for several years.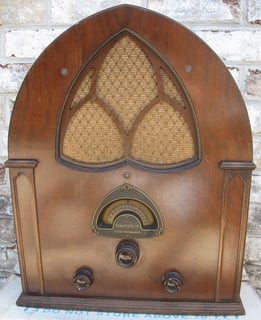 While the second A-K Wissahickon Avenue building was torn down in the 1990s, the original Atwater Kent factory can still be seen with the name engraved above the door. Today, it is home to the Wissahickon Charter School and Material Culture, as well as a retail outlet featuring antiques, furniture, and tapestries.
Kent was also a major Philadelphia philanthropist, spearheading efforts to restore the Betsy Ross House in Center City Philadelphia, as well as paying for much of the work. He also purchased the original home of the Franklin Institute, and donated it to the city in 1938, when it was named the Atwater Kent Museum in his honor.
This naming led to some confusion in the ensuing years, for it implied to many a museum for Atwater Kent radios, when it was really a museum for Philadelphia history. The name has since been changed to The Philadelphia History Museum at the Atwater Kent.
Kent made millions over his career, and he used some of his earnings to finance a lavish lifestyle. He owned several mansions. In addition to his West Hills estate in Ardmore, Pennsylvania, there were two mansions in Maine, and most impressive of all, a 32-room mansion called Capo di Monte, located atop the highest point in Los Angeles. Here, Kent entertained the movers and shakers of Hollywood.
Even by Hollywood's standards, his parties were over the top, and no expense was spared. They were also planned down to the last detail, in the same way that he ran his business. In addition to the bar, which served only the best wine and spirits, there was the gourmet food, expansive flower arrangements, orchestras, and balloons. The ambiance, while lavish, was always dignified. This set them apart from many of the town's blowout celebrity affairs. As a result, Kent became Hollywood's favorite party host. He died in 1949 in Hollywood at age 75, and is buried at Forest Lawn Memorial Park in Glendale.
While Atwater Kent radios are very collectable and popular, they are not easy to restore. A-K made their own components, which don't even look like the parts in other manufacturer's sets of the same era. To make things more interesting, they also had their own unique resistor color code. And just to make it even more fun, the original schematics published by A-K don't have resistor or capacitor values on them, just A-K part numbers. This must have been a deliberate effort to make it as difficult as possible for servicemen other than A-K dealers to repair their radios.
Fortunately for those of us restoring these receivers in the 21st century, the Rider schematics, which do have component values, as well as chassis diagrams for the Model 84, are available as free PDF downloads from Nostalgia Air.
Despite their high quality control standards, with the passing of 80-plus years, many of the resistors and capacitors on Atwater Kent radios fail, just as they do in other radios from the 1930s. With the A-Ks, they're just more difficult to replace while maintaining the vintage appearance.
All A-K resistors are either large wirewound devices, or ceramic dog bone units with metal end caps, secured to the chassis in groups of three to six with insulated clamps. Bypass and coupling caps are in groups of four and sealed in square metal cans which are riveted to the chassis. On the plus side, it makes for a tidy-looking interior.
Dave McClellan has developed his own technique for replacing the dog bone caps so they look just like the originals. It's here in his restoration log for the A-K Model 84. He also describes how to replace those caps in the square metal cans.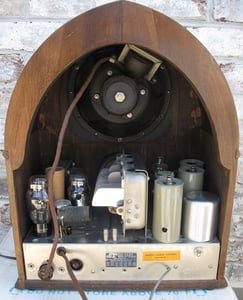 Since Atwater Kents are popular with collectors, many replacement parts are available from online vintage radio retailers. Dials and decals for Atwater Kent radios, including the Model 84, are available from Radio Daze. The dial drive mechanism on many A-Ks included a rubber sleeve on the tuning condenser. It does not survive the decades well. Exact replacements can be purchased from the Adams Manufacturing Co., who also sell the bronze belts for older A-Ks, as well as other drive belts and vintage radio specialty items.
Our A-K Model 84 was an auction purchase from the 1970s. It cost around $40, which was a lot at the time, but it was in very good cosmetic condition. The only visible flaw was that it had been modified to run off batteries, and a hole had been drilled in the rear chassis to insert a switch, and a cable for the battery had been threaded through one of the rivet holes. It has the original cloth-covered power cord which is still reasonably flexible. The original globe-style tubes had been replaced with later shoulder-type devices, easy enough to remedy. No rust can be found on the inside or outside of the nickel-plated chassis.
Inside, there are a few more problems. The power transformer used in Model 84s was prone to failure, and mine was hastily replaced with a substitute secured via large washers to fit it into the chassis opening. A voltage check needs to be done to ensure this transformer is even a proper substitute, and if so, the haphazard wiring will be cleaned up. A later research project will be locating an original replacement.
Several components were added with the switch and battery cable. These need to be removed, and the wiring restored to its original connections.
At the time it was purchased, it was given a thorough cleaning, tubes were checked, new electrolytics were installed, and it worked quite well. It was carefully packed away in the 1980s and stored in the attic, where it remained until recently. Following another interior cleaning and polishing of the cabinet, it will be put on display. Full restoration of this radio per the McClellan work log will be added to the infinite to-do list.
Topics: Vintage Radio Technology, Vintage Electronics, Radio History
Subscribe

If you love broadcast audio, you'll love Telos Alliance's newsletter. Get it delivered to your inbox by subscribing below!