Found in the Attic: Detrola Model 276 "Super Pee Wee" Radio
By Tom Vernon on Dec 7, 2016 9:29:00 AM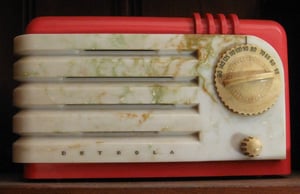 Long before the Motor City was known as "Motown" it was simply called Detroit. And while it was the hub of the automotive industry, it was also the home base for lots of other manufacturing concerns, including the 6th largest supplier of radios in the USA. This Found in the Attic examines the Detrola model 276 "Super Pee Wee" radio, discusses the history of the company, and talks about why private labelling was such a big deal for some manufacturers.
1931 was not a good year to start a new company. The country was in the throes of the Great Depression, unemployment was at an all-time high, and money was tight. On the positive side, radio was already well engrained in the American culture. Entrepreneur John J. Ross thought there might be a market for inexpensive radios, and so he created Detrola to build them. The first factory was located at a rented garage in nearby suburb Ecorse. In 1934, they made the move to Detroit, starting on Fort St, and later to Beard St., where most of the manufacturing took place. Detrola started out with a handful of employees, and grew to over 1000 by the late 1930s.
By today's standards, Ross would be classified as an overachiever. He knew little about radios, but he did know how to set up and run an assembly line. He supervised the Detrola line by day, and sold receivers to dealers in the evenings, often traveling to nearby states. He treated his employees well, and made daily walks through the assembly line to talk with the workers.
The earliest Detrolas were cathedral and tombstone sets, and the performance was not great. This was partially due to inexpensive construction, and in part just the state of the art for receivers in 1931. Soon, performance improved, and Ross saw another marketing opportunity for Detrola, one that would ultimately propel them into radio history, private labelling.
This was a leading sales strategy of department stores, sell brand-name appliances like GE, Whirlpool, RCA and Frigidaire alongside the house brands which sold for a lot less. These department stores didn't own their own appliance or radio factories, so they paid others to manufacture goods and put their house brand on them. Sears sold Silvertone radios and TVs, Wards had Airline and Western Auto had the Truetone brand. Often these radios had an identical chassis to the manufacturer's own brand, there were just cosmetic changes in the cabinet, along with a different logo.
In addition to the well-known national stores, there were countless regional and statewide department store chains in those days, and many of them also sold house brands. It was the manufacture of these national and regional house brands that made Detrola the sixth-largest radio manufacturer, but also the reason that they are not as well known as Philco, Zenith or RCA.
Detrola became the grand master of private labeling radios. Many manufacturers labeled to some degree, but this Detroit firm took it to the next level. One radio made after WWII, the 571, had over 52 brand names and at least ten cabinet styles! Detrola sold far more models under brand names than with their own label. It is estimated that there were over 100 brands private labelled by Detrola. Around 70 of these have been identified, while radio historians and researchers are working on the rest.
While the earliest Detrolas were known for inexpensive construction, later models were more innovative in their use of materials and design. Wood had been the only material for building radio cabinets in 1931, but later in the 1930s, Bakelite, Plaskon, and Catalin came into being. All of these are forms of formaldehyde-based plastics. Not only could radios now be smaller and lighter, they could also be colorful. Since these materials could all be molded, a new avenue of creativity opened up in the design of cabinets.
In the late 1930s, factory workers were beginning to unionize, which was unsettling to Ross. At the same time, he also grew anxious to pursue new ventures. Around 1941, Detrola was sold to a New York financier named C.R. Feldmann, and renamed International Detrola. It was the beginning of the end.
"Detrola became the grand master of private labeling radios. Many manufacturers labeled to some degree, but this Detroit firm took it to the next level. One radio made after WWI . . . had over 52 brand names and at least ten cabinet styles!"
During WWII, radio production ceased, and the company worked on government contracts, including mine detectors. Aircraft receivers were also manufactured, including the model 438 radio range receiver.
After hostilities ceased, Detrola rode the post-war economic boom back to produce even larger numbers of private-labelled radios. They also built car radios for the Ford Motor Company. This success turned out to be short lived, lasting from 1946 to 47. Television was coming on strong, and further success for Detrola seemed to be linked to adding TVs to the product line. Prototypes were built, and feasibility studies were done. They concluded that it would not be feasible for the company to scale up to the level necessary to profitably produce TVs. But there were bigger problems for Detrola, largely ones of mismanagement.
The new owners were involved in many types of companies, basically jacks of all trades and masters of none. They left Detrola with no real management. Feldmann made occasional visits to the Detrola factory floor, but most of the day-to-day decisions were made by supervisors.
The company stockholders eventually decided to narrow their focus down to the steel business. In 1948, they secretly made a deal to sell the auto radio part of the business to Motorola. Around this time, there was a labor dispute, and Detrola's workers threatened to walk out. When Feldmann got wind of this, he closed down the plant and fired all the workers. And that was the end of Detrola.
The vast inventory of leftover parts was sold to a local electronics surplus dealer. It was said that you could find all the parts to build a complete Detrola radio right up to the early 1960s.
In hindsight, Detrola did things a bit backwards. They went into business and thrived at a time when many companies failed. They went out of business during the largest economic boom in American history.
The "Pee Wee" series of radios, subject of this column, are very popular with collectors. When they were introduced in 1939, they took the market by storm. Detrola not only made them colorful, but also much smaller than other tabletop radios. They sold for $10-$20, quite inexpensive at the time. Most "Pee Wees" were AM radios, but the model 208 covered both AM and the police band, which was 1.6 to 2.5 Kc at the time.
The attractive and colorful art deco cabinets for the "Pee Wee" series were designed by George W. Walker, who also worked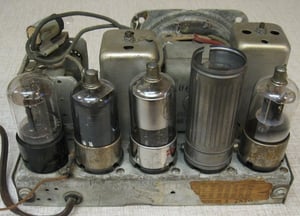 for the Ford Motor Company. He is perhaps best remembered for the design of the 1955 Ford Thunderbird. The design for his "Pee Wee" cabinet was patented in 1938.
Our model 276 "Super Pee Wee" dates from 1939, and its cabinet measures just 7.5 by 4.5 inches. It is a textbook 'All-American Five' circuit, just built very compactly. The small size was accomplished in part by making the radio transformerless, and having a long piece of wire for the antenna, rather than a conventional loop arrangement attached to the rear panel.
While most of the items featured in Found in the Attic come from dumpster diving expeditions or cleaning out transmitter buildings, this Detrola radio has strong family ties. It was a gift to my mother, who listened to it in the 1940s while living in Detroit. In the early 1970s, the "Super Pee Wee" got cleaned up and recapped. It lived on top of the refrigerator, and was my go-to radio for listening to Dr. Don Rose on WFIL while getting breakfast. It was packed away for many years, recently unpacked and put on display. After 77 years, it is still in working condition, although Dr. Don and Famous 56 WFIL are distant memories.
Topics: Vintage Electronics
Subscribe

If you love broadcast audio, you'll love Telos Alliance's newsletter. Get it delivered to your inbox by subscribing below!