Found in the Attic: GE Superadio III
By Tom Vernon on Nov 1, 2016 9:47:00 AM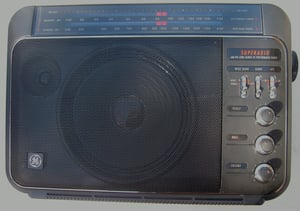 Is it too soon for a Found in the Attic '90s flashback? Before you answer yes, think about how much the mass media and technology have changed over the past 20 years. In the early 90s, the Internet hadn't yet happened, and there was no streaming media. Radio was still an AM-FM thing. In this world, specialty receivers were not uncommon. A few people were still interested in long-distance AM listening (DXing), and to meet that need, the GE Superadio series was offered. This Found in the Attic examines that series, and the Superadio III in particular.
What made the Superadios so super? All three receivers in this series featured a 7 3/4" ferrite rod AM antenna for increased sensitivity, outstanding audio quality, and long battery life from the six D cells. The Superadio III took it up a notch by adding a broad-narrow bandwidth filter for AM, enabling high-fidelity reception of local stations. All were reasonably priced at $60 or less. Production began around 1979 with the original Superadio, and ended in 2006 with Superadio III.
All three Superadio models were based on a common circuit design, with only minor tweaks from one to the next. The TDA 1083 IC is really a 'radio on a chip'. Just add an antenna, IF stages and speaker. The engineers at GE went far above and beyond these basis, including tuned RF stages for AM and FM, four IF stages for AM and three IF stages and a ceramic filter for FM, as well as bass and treble controls for the audio amplifier. The end result was an inexpensive receiver with great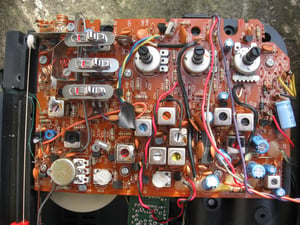 sensitivity and great sound.
Superadio III changed from the conventional tuning condenser found on I and II in favor of varactor diode tuning. This required raising the 9-volt battery/AC adapter voltage to 15 volts via a DC-DC converter operating at 3.5 Mhz. SR3 also included a wide-narrow bandwidth switch. The wide position sent the high-frequency response to well above 10 Khz. The audio section was also completely revamped, taking advantage of the TDA 1083's differential output to quadruple output power.
While the Superadio circuit was a great design, all three models suffered from quality control issues from time to time. There seemed to be good production runs and bad. Among the problems, cold solder joints and long leads that shorted to other components. The most common complaints about SR III were poor sensitivity and bad dial calibration. The service manual with alignment instructions was readily available, and a careful RF and IF alignment usually took care of these issues.
For less technically-savvy consumers, the only option was to exchange their SR III, and hope that the replacement was better. That wasn't always the case. More quality-conscious retailers made it a practice to check these radios before shipping, and they caught many defective SR IIIs and sent them back.
The end finally came when GE sold the production rights for SR III to RCA. The story goes that RCA substituted cheaper components than GE had used. One of those was the variable resistor that tuned the varactor diode. The rate of returns for SR IIIs reached an all-time high, and the reputation of the Superadio was totally trashed. Production finally ceased in 2006.
The Superadio III is a historical milestone in that it will probably be the last consumer-grade long-distance/high fidelity AM radio that will ever be manufactured. The likelihood of a revival of interest in DXing, or high-fidelity AM (at least in its analog form), seems slim at best. SR III marked the end of a long tradition of high-fidelity and/or long distance consumer AM receivers that began with the Atwater-Kent and McMurdo-Silver radios of the 1920s and 30s, and continued with the Heath BC-1A of the 1950s, the Zenith Trans-Oceanic series, and the McKay Dymek AM-5 of the 1980s.
Although it's been out of production fo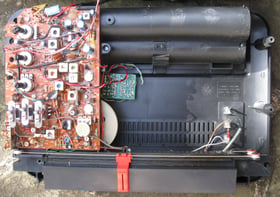 r ten years, there are some good Superadio resources on the web. The GE Superadio Tech Page has a complete history of all three radios, along with lots of pictures. Doug's GE Superadio III Alignment Page has the SR III service manual available as a PDF download, as well as circuit board layouts and other tips and tweaks for alignment. An article in RadioIntel has more on the history and tech in Superadios.
This Superadio was purchased at a local thrift store in 2005. It was working well, but had been modified by Sound City Electronics of Bayonne NJ to receive SCA. In order to switch to the SCA channel, the bandwidth switch had been modified to become an AM-SCA switch, so broadband AM reception was no longer possible. The SCA decoder is visible right below the main PC board.
Restoring the broadband AM function would require some delicate surgery and careful disassembly. As this was being contemplated, life intervened in the form of a long-distance move. The Superadio, along with notes about this project, were carefully packed away for the next 11 years.
Topics: Vintage Electronics
Subscribe

If you love broadcast audio, you'll love Direct Current! Get it delivered to your inbox weekly!