Found in the Attic: Panasonic 8-Track Player
By Tom Vernon on Oct 17, 2016 9:20:00 AM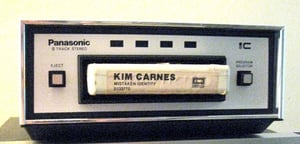 Break out those Merle Haggard tapes, it's time to go 8-trackin'. During this trip to the attic, we'll revisit those 70s machines that go kachunk, 8-track players. We'll discover the history of this format, peek inside a Panasonic RS-804US 8-track player, and visit with 'Trackers', who keep everything 8-track alive.
It all began with a desire for freedom of choice. Back in the early 1960s, a few people had begun to resent the limited choices they had for music while driving. AM radio was predominately Top-40, with a very limited playlist. FM radio was in its infancy, and most car radios were AM only. Bottom line, if you lived outside urban areas, your options for automotive listening were limited. This restriction was especially felt by truck drivers, who spent countless hours on the road.
William Powell Lear, of Lear Jet fame, saw a market opportunity in all of this. At the time, the idea of personalizing media fairly novel. He looked at the broadcast cart and consumer 4-track endless-loop tape formats, and got the idea of pre-recorded music tapes for the automotive environment.
His first challenge was developing a tape format that didn't violate the patents of the existing cartridges. Mechanically, the 8-track differed from broadcast carts and 4-track by placing the pinch roller inside the cartridge.
While broadcast carts used a separate cue track and tone detector to stop the tape at the end, Lear's device used foil tape and a mechanical sensor. When the foil crossed the sensor, it shorted it out, and triggered a solenoid which advanced to the next track, making the familiar 'kachunk' sound.
The biggest drawback of the existing 4-track format was its limited time. With two stereo tracks recorded on 1/4-inch tape playing at 3 ¾ IPS, the total playing time was limited to about 40 minutes. By upgrading from four to eight tracks, the time of the cartridges was effectively doubled. With all of these changes, Lear had arrived at a unique format that could be patented.
The next step was marketing the 8-track concept. In 1964, Lear built 100 demonstration Stereo 8 players for distribution to executives at RCA and the auto companies. Initial efforts focused on auto manufacturers. The first to offer factory-installed in-dash players was Ford, in 1966. The next year, Chrysler and GM got on board. At the same time, collaborations with RCA and Ampex insured a source for pre-recorded music, while distribution of 8-track tapes was through auto supply stores such as Western Auto.
8-tracks became a runaway success. By the late 1960s, the 8-track segment was the largest in the consumer electronics market. The automotive market drove a demand for home players in the growing high-fidelity market.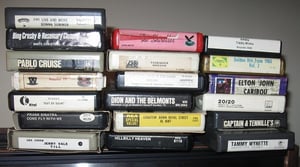 Next, 8-track recorders and blank tapes were introduced, enabling further personalization of the medium. Radio Shack jumped on this trend, becoming a manufacturer and distributor of 8-track machines and accessories. Recorders were introduced in 1969, and production continued till around 1974, as cassettes gained popularity.
8-track also played an important role in the quadraphonic movement of the 1970s. It was a simple matter to revamp the existing 8 tracks into a quad format for cartridges with two four-channel tracks. The downside was the total playing time was cut in half, about 40 minutes.
RCA was the pioneer with 8-track quad, naming their format Q-8. They introduced complete home systems, along with a vast library of pre-recorded quad material.
Q-8 was one of only two formats that consumers could use to record four-channel material. The other was open reel, although that usually lost out to Q-8 due to the inconvenience of threading and handling tapes. Some of the tapes most prized by collectors are air checks of live quad FM broadcasts from the 1970s. Especially popular was the syndicated King Biscuit Flower Hour, which featured live quad recordings of popular rock artists such as Hot Tuna, Grin, and Mott the Hoople.
The advent of cassettes was the main reason for the declining popularity of 8-track, but the simultaneous demise of four-channel was a contributing factor. Q-8 was the only convenient format for consumer recording of quad, and when that went away, it was one less reason to keep the now-obsolete and bulky equipment.
Despite the popularity of 8-track, the format was not without its problems. The close spacing of eight tracks on 1/4-inch tape made crosstalk an ongoing problem. Slight misalignments of head height or sloppy tolerances in the cartridge shell were the usual suspects. Since the adjacent tracks had completely different audio, this could be very annoying. A few players had a fine head height adjustment on the front panel to help alleviate this problem.
Most of the issues were with the cartridges themselves. Left in a car on a sunny day, the heat could warp and melt plastic parts, and destroy foam pressure pads. Dropping the cartridges would sometimes make the tape jam the next time it was played. Rubber pinch rollers could turn into goo with age, and contaminate the entire transport, resulting in costly repair bills. Consumers were willing to put up with these shortcomings because of the convenience, but when cassettes were introduced, the handwriting was on the wall for 8-tracks.
The 8-track format died a slow death. Cartridges and players began to disappear from the retail shelves in the late 1970s. But the format held on with record clubs such as RCA and Columbia, who continued to release tapes until 1988. Michael Jackson's "Thriller," Madonna's "Like a Virgin," "Purple Rain" by Prince and Kim Karnes' "Mistaken Identity" were some of the last hit albums released on 8-track cartridges. Independent artists and labels still occasionally release new recordings on 8-track.
Possibly the greatest testament to the persistence of 8-track enthusiasts, or trackers as they are known, is a 92-minute documentary film entitled "So Wrong They're Right." In it, Dan Sutherland and Russ Forster, editor of 8-Track Mind, make a 10,000 mile cross country journey to talk with about 20 musicians, students and collectors, and delve into the heart of the 8-track culture. But this documentary is about more than the technology and music. It's also about a cultural revolution against planned obsolescence and a throw-away society.
For some, collecting 8-track tapes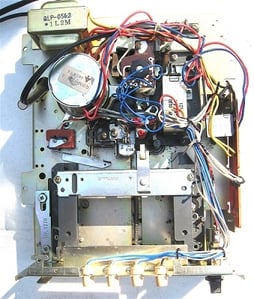 and players is a hobby. For others, it is a small business. Kathy Gibson wanted a part-time job that she could handle as a stay-at-home mom. At the same time, husband Dan purchased 200 8-track tapes at a garage sale, with the intent of using a few in the player he installed in a vintage car. He created a website to sell the rest online for 75 cents each. Sales were brisk, so they decided to sell more tapes online, and began to place ads in the newspaper offering to buy 8-tracks. And thus, Kate's Track Shack was born. That was in 1998. Over the past 18 years, the business has expanded to include all things 8-track. And now, it's more than a full-time job. "I could easily be working 24 hours a day," adds Gibson. Regular duties include purchasing and cataloging collections, getting orders ready to ship, responding to customer calls and e-mails and listing items to sell on eBay.
The inventory now includes repair kits for tapes, foam pressure pads, foil tape and splice blocks. Carousels, cases and sleeves are also available. Services include repair of tapes and machines, as well as dubbing services. These include 8-track to CD, cassette to CD, and CD to 8-track.
The Gibsons make regular road trips to buy tapes and machines. They returned from a recent trip with 300 tapes and a few players. For some of the other supplies, original stock has been long gone, and they need to improvise. "We make our own foam pressure pads, and have a local shop make the splice blocks for us. We also bought a large stock of Capitol 1/4-inch lubricated tape and cartridge shells a few years ago," explains Gibson.
Their large stock of NOS shells won't last forever, and the efforts to produce replacements have proven especially challenging. "We reached out to all the manufacturers of cartridge shells, offering to buy their molds. Along the way, we even spoke with the grandson of Bill Lear. Everyone figured 8-track was dead, so they got rid of them. Now, the only option is to use existing cartridges to reverse-engineer new molds, and that is looking like an expensive proposition," adds Gibson.
Recently, the couple launched KTS Productions to produce and release new and original content on 8-track. Most of the material is submitted to KTS on CDs, and some as digital files on DropBox. But there's more to 8-track production than just dubbing onto tape. "With vinyl, it was just a matter of dividing between side 1 and side 2, but this is more complicated," explains Gibson. "You need to look at the timing of all the songs, and divide them up into four programs. Sometimes that doesn't work out. If one song is too long to fit, you may need to fade it down at the end of one track, and fade it back up on the next." She adds that on there should be no more than a minute at the end of program four. Sometimes if there was an extra three minutes or so, artists would throw in a bonus track that was not on the vinyl. It is also important to have the content of the four programs settled before having the labels for the tapes printed.
A large chunk of Kate's Track Shack business continues to be the sale of tapes, and Gibson estimates their current inventory at around 15,000. Still, she looks for more. Many come from the children of collectors who have passed away, some averaging 1,800 tapes. "I have trouble passing them up," notes Gibson. "I keep worrying that the supply is going to run out, although that's clearly not the case."
While all genres of music were released on 8-track, Gibson notes that rock music from the '70s is their most popular seller, probably because this is what baby boomers grew up listening to. Surprisingly, there is also a younger audience that is interested in 8-tracks, preferring the sound of analog audio over digital.
Our Panasonic RS-804US player was a thrift shop purchase from the 90s. It was in good cosmetic condition, and looked like it had received very little use. The only negative was that someone had cut off the audio output cable. Annoying, but easy enough to fix.
Regardless of its limited use, the lubricants used in tape machines do not age well. The fine instrument oil used on the flywheel and motor bearings turns black and gummy. The white grease used to lubricate moving parts on the transport takes on the consistency of paste. It all needs to be removed and replaced with new lubricants. Special attention needs to be paid to the mechanism that changes the head height, as old grease here is often the cause of players not always changing tracks. All contacts on the solenoid need to be gone over with De-Oxit.
While things are torn down to this level, SOP is to replace all those 40 year old electrolytic capacitors, and hit up the tweaks for audio out and EQ with De-oxit as well.
Virtually all 8-track players are driven by a motor-flywheel arrangement, and the drive belt most certainly needs to be replaced. PRB cross-references for replacement belts are available online, and most can be ordered from The Voice of Music website.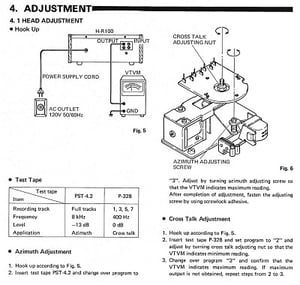 Hi-Fi Engine is a great source for free downloads of service manuals for all types of Hi Fi gear. Unfortunately, they did not have the manual for the RS-804US. It wasn't really necessary though, as this player is about as simple as it gets.
The only step in refurbishing this 8-track player that was skipped was head alignment, setting EQ and balancing levels. Lacking an alignment cartridge, the best that could be done was to put the tweaks on the playback amp back where they were before lubrication, and adjust head azimuth for best high-frequency response on a pre-recorded cartridge.
When doing 8-track head alignments back in the day, two tapes were used. First, azimuth was adjusted the same way it was on reel machines, adjusting for maximum 10 Khz output. Then, the crosstalk tape was inserted, and height was adjusted for minimum 400 Hz output while listening to program 2. The accompanying diagram shows the setup for head alignment on a Pioneer H-R 100, but the procedure is pretty generic.
After a thorough teardown and rebuild, the Panasonic player was connected to the vintage sound system for an audition. The trackers are absolutely right! With a good machine and tapes, the sound is amazing. Donna Summer's Live and More never sounded better.
Topics: Vintage Electronics
Subscribe

If you love broadcast audio, you'll love Direct Current! Get it delivered to your inbox weekly!