Found in the Attic: Shure M67 Mic Mixer
By Tom Vernon on Nov 11, 2016 5:00:00 PM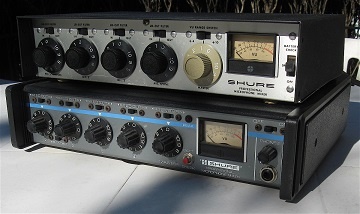 Some pieces of broadcast equipment are destined to become classics. The Otari MX5050, Gates Sta-Level and Spotmaster 500 cart machines come to mind. All were rugged, easy to service, and affordable. And so is our current attic discovery, the Shure M67 microphone mixer.
The story begins almost 50 years ago, in 1968 when the M67 was introduced. Production continued through 1987. In 1968, many stations were still using portable mixers with vacuum tubes, so an upgrade to solid state was a plus. One of the early footnotes in the history of the M67 was its use in the recording of Woodstock in 1969.
Throughout the 1970s, it was common to find many stations using M67s for sports broadcasts and remotes. In the days of analog telephone lines, it was a simple matter to connect the 600-ohm output to the phone line, feed a tone back to the studio, and be ready to broadcast.
Each of the four channels had a low-frequency roll-off switch. One channel was switchable between mic and line, and further between a bridged or terminated connection. Channel one was switchable between mic and a 700 Hz tone oscillator. Two outputs were provided, 600-ohm balanced through a double banana plug, and mic level through a male XLR. An RCA jack connected to the mix bus input so that mixers could be stacked.
Backup power could be provided by the optional A67 B battery pack, which was basically three nine-volt batteries in series. Automatic switchover took place in the event of AC failure, and batteries could be checked via the VU meter and a momentary position on the power switch. Battery life was approximately 75 hours operating at +4 dBm for four hours per day.
The transistorized M67 was a runaway success. Besides being lighter and smaller than its predecessors, it was very easy to service. Four screws held the top cover in place, and once they were removed, everything could be accessed on one circuit board.
This mixer quickly developed a reputation for taking a major amount of abuse without failing. M67s would arrive in the shop in need of some serious chassis adjustment with a rubber mallet, yet they still worked. XLR connectors occasionally failed, and these were secured to the rear panel with aluminum rivets. But it was an easy matter to drill these out and replace them with conventional hardware. Removal of the single printed circuit board for repair or replacement of caps was simple. The only tweak on the board was to calibrate the VU meter.
The M67 is still widely available on eBay and used equipment sites. While it may still be used as a field mixer, it seems to be having a second life in recording studios as a four-channel preamp with independent outputs.
The M67 was part of a series of identically-sized sound reinforcement equipment that could be joined together via the Shure A68S stacking kit. Up to three units could be staked. While the M67 is still remembered, and often sighted on eBay, its stable mates have largely faded into history. The M68 five-ch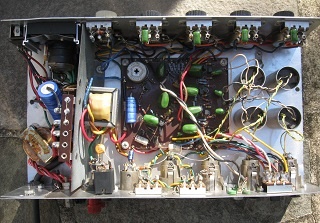 annel mixer could be joined with the M67 via the mixing busses to create a nine-channel mixer. The same could be done with the M68RM, but with the addition of a spring reverb. For PA applications, the M610 feedback controller could be added to provide a graphic EQ. The M62 Level-Lok provided constant level audio output, while the M63 Audio Control Center provided conventional EQ. If more than three units were needed together, rack mount kits were also available.
Our M67 is pictured along with its successor, the M267. The 267 had more features than the 67, but was a bit more difficult to service.
This M67 was purchased for around $10 at a flea market in 2003. It was used for the sound system of a church that was on a tight budget. In a previous life, it had been located in a remote truck of a Baltimore TV station. It got the standard overhaul and cleanup, including De-Oxit treatment, new caps and meter lamps. As this mixer began its fourth decade, it gave flawless service for several years. Eventually, the church was able to afford a more robust sound system for Sunday services. Our M67 now lives in semi-retirement in the attic.
Topics: Vintage Audio Technology
Subscribe

If you love broadcast audio, you'll love Telos Alliance's newsletter. Get it delivered to your inbox by subscribing below!