Found in the Attic: Zenith Allegro Modular Stereo
By Tom Vernon on Jun 14, 2016 10:00:00 AM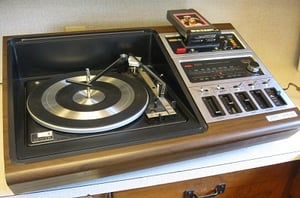 The 1970s saw the music industry grow in to a multi-billion dollar business. This explosive growth was one of the driving forces behind a comparable expansion in consumer electronics, and in particular, hi-fi gear.
Component stereo gear was the bread and butter of companies such as Pioneer, Marantz and Denon. Consumers could purchase tuners, amps and tape decks at a price point they could afford, and upgrade as new technology and/or larger paychecks became available. At the other end of the spectrum were modular stereo systems. These devices usually had all of the above components, along with a turntable, in one chassis. Since all of the electronics were usually on a single motherboard, and there was only one chassis, they could be manufactured fairly inexpensively. There were two varieties of modular stereos. The large cabinet systems found in virtually every living room during the 1970s was one type, and there were also tabletop units.
The downside of modular stereos was that the sound quality was usually not that great. Many of the speakers that came with these units were just an 8-inch midrange in a large box. And if the tape deck or another section failed, the whole unit had to go back for repairs. Servicing them was usually not fun, as disassembly and accessing both sides of the motherboard could be challenging at best.
In fact, the mere mention of modular stereos to many audiophiles or repair techs might cause them to run from the room, fingers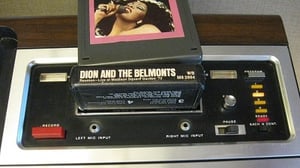 thrust in ears. At Found in the Attic, we choose to embrace this darker side of consumer electronics, as we look back at the Zenith Allegro Modular Stereo system.
This Zenith dates from around 1974, and includes an AM-FM tuner, 8-track recorder-player and turntable. The turntable played 33, 45 and 78 RPM records. A dual radius ceramic cartridge and stylus played 33s and 45s on one stylus, and the wider groove 78s on the other. An external input was available via RCA jacks. The power amp delivered a whopping 12 watts into 2 or 4 speakers. A headphone jack was available for private listening.
This unit was produced during the era of quad, although it could not handle real 4-channel media. By connecting 4 speakers and switching on the 'matrix' switch, a blend was fed to the rear channels, giving the illusion of quad. If the 'matrix' switch was left in the off position, the rear speakers could be used to deliver sound to another room.
Zenith used the Allegro brand for a series of console and tabletop modular stereos starting in the mid-1960s and extending into the late 1970s.
This system was found curbside a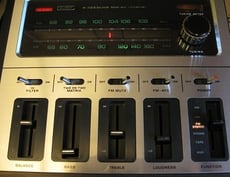 bout 4 years ago, and came with the owner's guide still attached. It is in working condition, although it needs the usual treatment of De-Oxit on all contacts and switches, and lots of electrolytics. Perhaps it also needs a belt to remedy the erratic speed of the 8-track. The future of this Zenith is uncertain. It is definitely too cool to throw away, but too big to put on display. Despite their mediocre sonic performance, and difficulty to repair, these modular stereos, particularly the living room consoles, have a lot of nostalgia value for those of us who came of age in the 1970s. They were great for blasting out the Led Zeppelin and Creedence Clearwater albums after school before mom and dad got home from work.
Sadly, they also fall into the void of being not old enough to be collectable, but too old to be wanted. Ironically, when these modular units were in their prime during the 1970s, thrift stores couldn't give away console radios from the 1930s and 40s. Now, those same units in good condition are worth a few hundred dollars!
Topics: Vintage Electronics
Subscribe

If you love broadcast audio, you'll love Telos Alliance's newsletter. Get it delivered to your inbox by subscribing below!