From A to B via IP Audio
By Tom Vernon on Dec 13, 2013 12:33:00 PM
Sacramento's K-LOVE loves Axia xNodes

Sometimes, a leaky roof can set a surprising chain of events in motion. Just ask Alan Guthrie, Engineering advisor for K-Love, 99.5-107.3. "The landlord informed us that the roof of our building needed to be replaced. That, in turn, meant our satellite receiving dish had to come down, and we had to find a temporary location for a new one."
Sacramento-based K-Love is a contemporary Christian music station which relies on the bird for most of its programming. Founded in 1981, the Educational Media Foundation (EMF) is a non profit organization that operates the K-Love and Air1 radio networks. EMF is based in Rocklin, about 30 miles east of Sacramento, California. Its adult-contemporary Christian music programming is distributed to over 440 FM stations and translators in 47 states. The K-LOVE service reaches about 12 million listeners each week in cities such as Chicago and Nashville, San Antonio and Los Angeles — and in New York City, wherein our tale takes place.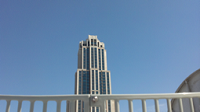 Specifically, it was in New Rochelle, where EMF's local station, WKLV-FM, has studios that feed their transmitter located in Port Chester. Guthrie had found a temporary home for the K-Love satellite dish. The only problem - the new location was four blocks from the studio. "We were left with the challenge of how to get audio and remote control signals between the two locations."
After doing some research, the solution emerged in the form of Axia xNodes, hooked up to each end of an Ethernet radio link. xNodes are light, high-performance half-rack IP-Audio interface available in several I/O configurations; Guthrie chose Mixed-Signal xNodes for his task. The Mixed-Signal xNode was perfect because each one provides a wide mix of I/O types: a selectable Mic/Line analog input, 2 dedicated analog line inputs, 3 analog line outputs, 1 AES3 input and 1 AES3 output, and 2 GPIO ports – just right for the type of downlink Guthrie had in mind.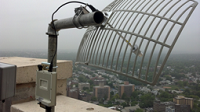 Axia signals can be transmitted over nearly any IP radio link; a few tested and approved models are listed at www.axiaaudio.com/stl/. In Alan's case, he chose a pair of Trango TrangoLINK-45 5 GHz multi-band units, placing the satellite-downlink end atop its temporary location – a tall office building nearby – and pointing at the receive end on the studio roof. After some dish alignment and a bit of audio / GPIO channel assignment on the xNodes, success!
The temporary xNode transmission link did yeoman service for a few weeks, until the station's infrastructure repairs were complete. How did it fare? Very well, according to Guthrie: "It's just an incredibly inexpensive and quick STL solution," he explains.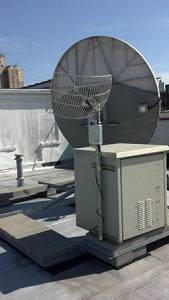 Of course, xNodes aren't just for setting up satellite downlinks. They're the building blocks of Axia IP-Audio studio networks, with several flavors to choose from. In addition to the Mixed Signal xNode used by K-Love, there are analog xNodes with 8 mono or 4 stereo balanced line-level inputs and 8 mono or 4 stereo balanced line-level outputs, AES/EBU xNodes with 4 AES/EBU inputs and 4 AES/EBU outputs, Microphone xNodes with four professional-grade microphone preamps with selectable Phantom power and software-adjustable gain as well as 4 stereo analog outs, and a GPIO xNode with six GPIO ports, each with 5 inputs and outputs (all opto-isolated). There's also our latest addition: the xSwitch, a compact, zero-configuration Ethernet switch just for Axia networks.
Are xNodes smarter than you are? Not yet. But they do some pretty intelligent things, like configuring themselves. All you have to do is plug xNode in and give it an ID number; it assigns itself an IP address and even names its own inputs and outputs (you can give 'em custom names later if you like). Plug in your sources and let the audio flow. And if you do want to customize settings, there's no fancy software needed — just your PC with any old Web browser will do.
Topics: IP Audio Codecs & Transceivers, IP Audio Network Routing & Control, Axia Audio
Subscribe

If you love broadcast audio, you'll love Telos Alliance's newsletter. Get it delivered to your inbox by subscribing below!