Linear Acoustic investing in Latin American Market
By Gilbert Felix on May 15, 2014 12:31:00 PM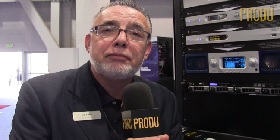 The Latin America Broadcast market is growing, and Gilbert Felix, Field Application Engineer for Latin America tells PRODU that Linear Acoustic is placing great attention on the region.
"We are investing heavily in the Latin American market," Felix told PRODU. "For us it is a market that is beginning to grow and we decided to invest in it because we see it as part of the future of our company. They are starting to talk about what two or three years ago were not known, for example, surround, 5.1, loudness, and they also have given priority to these issues. But most importantly is to continue educating professionals on the topic of loudness, because this problem has always existed," said Gilbert at NAB 2014 in Las Vegas last month.
He added, "As far as TV processors, we see Brazil as a very important country, as well as Mexico. Chile, Ecuador and Argentina are also important to Linear Acoustic. These countries are investing time and money thinking about the future of their digital channels, and the audio is a crucial sector they will need to worry about when making the switch to digital."
Topics: Linear Acoustic
Subscribe

If you love broadcast audio, you'll love Direct Current! Get it delivered to your inbox weekly!