TWiRT 336 - Hands-On AES67 with Patrick Killianey
By Kirk Harnack [TWiRT] on Feb 11, 2017 1:00:00 PM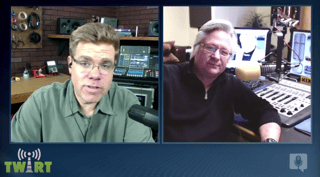 Perhaps you've heard of AES67 for IP-Audio. It allows cross-connection of different, competing AoIP standards like Ravenna, Dante, and Livewire+. But until you actually try connecting audio devices together, AES67 is just a standard on paper. IP-Audio expert, Patrick Killianey from Yamaha Pro Audio is here to explain real-world AES67 from our recent technology demo
Hosts:
Chris Tobin, IP-Solutionist
Kirk Harnack, The Telos Alliance, Delta Radio, & South Seas Broadcasting
Guest:
Patrick Killianey, Network Systems Applications Engineer - Yamaha Pro Audio
Show Links:
Introduction to AES67 - Full Technology Demo [YouTube video]
Networking Fundamentals for AoIP - 6-part course [YouTube video]
Media Networking Alliance - Videos and Presentations
Watch the Video!
Topics: Audio Engineering, AES67, Audio over IP
Subscribe

If you love broadcast audio, you'll love Direct Current! Get it delivered to your inbox weekly!