Hardware Versus Software Streaming: Which Is Right for Your Facility? | Telos Alliance
By The Telos Alliance Team on May 11, 2016 1:46:23 PM
Hardware Versus Software Streaming: Which Is Right for Your Facility?
One of the primary questions for broadcasters exploring a streaming solution early on, is: Do I go with a software-only product, a dedicated card, or a hardware appliance?
Dedicated Cards: No Way!
First off, I don't recommend dedicated cards. These are cards that you install in your PC and they provide some hardware-assisted audio processing or encoding. While they may serve a purpose for certain applications, they are often a hassle to maintain. As OS versions change, keeping drivers up to date can be a pain. And with fast multi-core CPUs found in modern PCs, dedicated cards are just not needed anymore. Enough said.
Software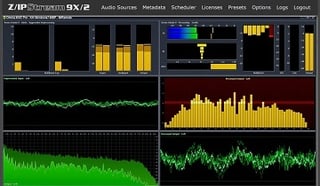 Software-only is a great way to go if you're looking to deploy the solution to the cloud or in a virtualized environment. Our Telos Alliance Z/IPStream software-only streaming products are designed to run as Windows services, in the background, for 24/7 trouble-free operation. They are remotely managed through an HTML5 web interface, so you can use your PC, Mac, tablet, or smartphone to configure or monitor their operation. They will email you in case of trouble, and if the PC is ever restarted, they will pick up and continue operation where they left off. Z/IPStream software products can accept audio input from any Windows audio device. Especially important for cloud deployment, they can also ingest audio via RTP or AES67.
Hardware
There are situations where a hardware solution is a better choice. A hardware appliance offers hassle-free installation and configuration. An appliance is dedicated to the task... just set it and forget it. You don't have to worry about OS upgrades breaking things in the middle of the night or when you're at that special family event (these kinds of things always seem to happen at the worst possible time, thanks to that Murphy guy). If you work in a large organization, an appliance may also lessen your dependence on the IT department, allowing

you to get the job done with less red tape. Just as with our software solutions, our Z/IPStream hardware appliances can be fully managed remotely through a web interface, so you can configure and monitor the appliance from wherever you are. And yes, they will also notify you, should any issues occur.
Ultimately, the choice is yours. The Telos Alliance offers both cloud-ready software-only products and hardware appliances so that you can select the right solution for your streaming environment. Happy streaming!
Telos Alliance has led the audio industry's innovation in Broadcast Audio, Digital Mixing & Mastering, Audio Processors & Compression, Broadcast Mixing Consoles, Audio Interfaces, AoIP & VoIP for over three decades. The Telos Alliance family of products include Telos® Systems, Omnia® Audio, Axia® Audio, Linear Acoustic®, 25-Seven® Systems, Minnetonka™ Audio and Jünger Audio. Covering all ranges of Audio Applications for Radio & Television from Telos Infinity IP Intercom Systems, Jünger Audio AIXpressor Audio Processor, Omnia 11 Radio Processors, Axia Networked Quasar Broadcast Mixing Consoles and Linear Acoustic AMS Audio Quality Loudness Monitoring and 25-Seven TVC-15 Watermark Analyzer & Monitor. Telos Alliance offers audio solutions for any and every Radio, Television, Live Events, Podcast & Live Streaming Studio With Telos Alliance "Broadcast Without Limits."
Topics: Streaming Audio
Subscribe

If you love broadcast audio, you'll love Telos Alliance's newsletter. Get it delivered to your inbox by subscribing below!