"Hey, good lookin'... Radio Console!"
By Tom Vernon on Mar 29, 2013 3:31:00 PM
Axia shows up in photos from all over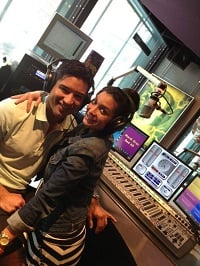 We've been seeing Axia in photos everywhere lately - from smartphone games (see "Axia Enters Pop Culture") to celebrity photo tweets. Recently, we received the photo above from Bob Page, Radio Broadcast Specialist at Universal Studios Orlando. You'll likely recognize actor and TV host Mario Lopez, and his lovely wife Courtney M. Lopez (Miss USA 2010), who tweeted the pic posing in front of that gorgeous console in the radio studios at Universal Studios, where they were shooting episodes of Extra!.
It's not the first time Universal Studios Radio has been in the news lately; their recent rebuild with Axia studio gear was reported on by Chriss Scherer in a recent issue of Radio m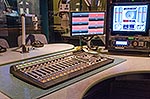 agazine. These showcase studios play host to a huge variety of visiting radio hosts, who have the privilege of doing remote shows using Universal's gorgeous new studios.
In the article above, photos were supplied by Jim Kuzman, Marketing Manager for the Telos Alliance's Linear Acoustic division. He's a whiz with the camera, and his photos of Universal Orlando are featured on the Axia Facebook page in our special photo gallery.
Topics: Axia Audio
Subscribe

If you love broadcast audio, you'll love Direct Current! Get it delivered to your inbox weekly!