How to Become AES67 Compliant
By Krissy Rushing on Sep 8, 2017 3:00:00 PM
As television broadcasters begin their migration to Audio over IP (AoIP), understanding the basics and the nuances of standards and protocols becomes increasingly important.
Standards such as AES67 help ensure basic interoperability between networked audio components and allow components from various manufacturers to work together, increasing flexibility for end users.
Unleashing the full p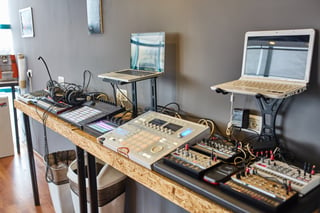 ower of AoIP, however, demands more than simple interoperability and compatibility. It requires an additional layer that can manage priorities and signal routing and provide additional functions such as multicasting to form a complete audio system.
This additional layer is what allows products utilizing Livewire+ AES67 to support a higher level of integration than the transport protocol alone, and provides a basis for greater integration of system elements. Since they are also fully AES67 compliant and implement the complete protocol as specified, Livewire+ AES67 compliant devices stand in contrast to products and systems that are simply "AES67 compatible".
AES67 addresses the areas such as synchronization, media clocks, transport, encoding and streaming, stream description, connection management, and minimum audio quality requirements. A fully AES67 compliant device will provide interoperability on all of these fronts, while a "compatible" device may only support a subset of the defined compliances. Choosing new devices on the assumption that they are fully compliant when in fact they comply on only a few standards—and have perhaps made different judgement calls as to which standards are essential—could spell disaster for your system. As you shop for new AoIP devices, choose those offering full AES67 compliance to ensure interoperability and scalability across your entire system going forward.
Becoming AES67 compliant allows your system to remain future-proof and scalable. With a complete AoIP open standard such as Livewire+ AES67, system owners can choose more freely between more than 100 manufacturers for the desired audio network functionality. Being aware of the key difference between "compatible" and "compliant" when scaling up or replacing components in your AoIP system ensures that you will realize the full benefit of AoIP and stand ready for what the future may bring for networked audio.
Subscribe

If you love broadcast audio, you'll love Direct Current! Get it delivered to your inbox weekly!