Four New Products from Telos Alliance Premiere at IBC 2018 | Telos Alliance
By The Telos Alliance Team on Sep 13, 2018 12:09:08 PM
Four New Products from Telos Alliance Premiere at IBC 2018
This year's IBC show in Amsterdam is gonna be one for the books. The Telos Alliance is launching four new products in Stand 8.D47, September 14-18, including the powerful new Axia Pathfinder Core PRO VM and appliance, the Telos VX Enterprise & Prime+ Multi-Line VoIP Phone Systems, and the Linear Acoustic Automatic Realtime Control (ARC) Television Loudness Processor. Read on for the details...
Pathfinder Core PRO VM & Appliance
Thousands of broadcasters depend on PathfinderPC or PathfinderPRO Windows software to manage, monitor, and control real-time broadcast routing and signaling. A couple years ago, Pathfinder Core PRO put this network control power into a convenient, rack-mount appliance.
Now we're introducing the third-generation of Axia Pathfinder, the Pathfinder Core PRO Appliance and Pathfinder Core PRO VM. Never before has routing control been this simple...or this sophisticated.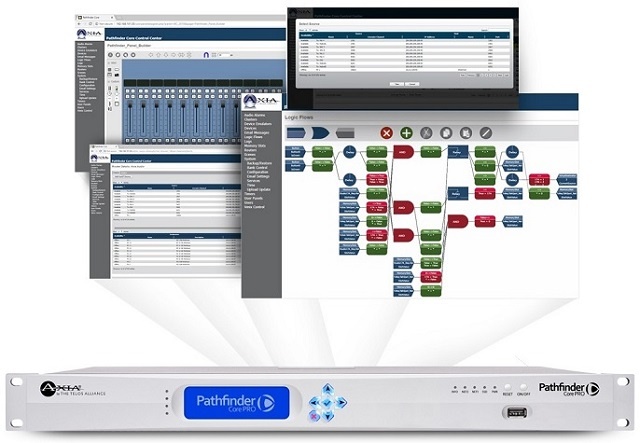 Pathfinder Core PRO—either Appliance or VM—is a toolbox with powerful features that combine to create efficient workflows and facility management. For one, it centralizes your Axia device monitoring and control, letting you make route changes from one central place—the Pathfinder Core PRO web interface. Pathfinder Core PRO simplifies routing in complex facilities, even those with thousands of audio sources and destinations, by giving the user easier, more intuitive control over audio workflows. This third-generation of Pathfinder routing control lets you customize and command your entire Axia network like never before with streamlined functionality including Logic Flows—a flow-chart-style events system that makes events easier to create, adjust, and monitor in real time. An efficient, intuitive web interface means easy configuration and monitoring from any device. And, this Linux-based appliance or VM makes full use of the processor while freeing you from a Windows-based server.
The new Pathfinder Core PRO appliance is built on an all-new hardware platform—a powerful and reliable 1RU server. Proven in years of on-air service, the new Pathfinder Core PRO appliance brings enterprise server-class redundancy and multi-processor, multi-threading architecture to real-time broadcast operations. Faster response, deeper event logging, and ultra-reliable monitoring and control are now available in the new Pathfinder Core PRO Appliance. Despite significant increases in processing performance, there's no price increase for the new Pathfinder Core PRO Appliance.
Pathfinder Core PRO VM is the virtualized monitoring and control solution for Axia Livewire+™ AES67 facilities. Now, Pathfinder Core PRO VM allows broadcasters to deploy Pathfinder monitoring and control on familiar, approved hardware. Moreover, thanks to Pathfinder's network-optimized monitoring and control protocols, Pathfinder Core PRO VM can be deployed locally or at an off-site data center. Indeed, just one instance of this VM-installable solution can monitor and control dozens of Axia broadcast facilities—over a small region or around the globe. Install Pathfinder Core PRO VM in various hypervisor environments including VMware, Hyper-V, VirtualBox, and Proxmox. Installation is also possible on standalone PC or Server hardware.
---

Telos VX Enterprise & VX Prime+ Broadcast VoIP Phone Systems
Telos VX talk-show systems are the world's first true VoIP-based broadcast phone systems and have since become the industry standard to deliver the power of VoIP to the broadcast studio like no other.
Telos VX Enterprise and Prime+ are the next evolution of the legendary VX system, both now with built-in support for AES67 in a powerful new 1RU hardware server. The only difference between VX Enterprise and VX Prime+ is that Enterprise is expandable with capacity of up to 120 connected hybrids for larger facilities and Prime+ has a fixed capacity of 8 hybrids. These choices are designed to give broadcasters flexibility into how much they spend on their phone system so that VX addresses needs of broadcasters of any size.
Support for AES67 gives broadcasters the flexibility of integrating VX Enterprise or VX Prime+ into any AES67 environment, in addition to our own Axia Livewire network. With plug-and-play connectivity, broadcasters can network multiple channels of audio with any manufacturer's AES67-compliant hardware. Beyond AES67, Livewire users have the added convenience and power of networking control (GPIO), advertising/discovery, and program associated data throughout the network.
Both Enterprise and Prime+ feature industry-leading performance, with crystal clear calls thanks to exclusive Telos technology like 5th-generation Telos Adaptive Hybrid technology, which includes Digital Dynamic EQ, AGC, adjustable caller ducking, and send- and receive-audio dynamics processing by Omnia®. Additionally, wideband acoustic echo cancellation from Fraunhofer completely eliminates open-speaker feedback. Finally, support for G.722 codec enables high-fidelity phone calls from iPhone and Android SIP phones using a SIP server.
The new VX Enterprise and Prime+ give broadcasters incredible operational power, savings over analog phone service, flexible, adaptable workflows, and superior audio quality, while making it easier than ever for talent to have complete mastery of their callers.
---

Linear Acoustic® ARC (Automatic Realtime Control)
Introducing Linear Acoustic ARC (Automatic Realtime Control), our next-generation television loudness processor featuring our state-of-the-art APTO® loudness adaptation algorithm.
The 1RU ARC processes up to four 2-channel stereo or mono programs and is designed for simple setup. Specify a target output loudness value, choose a processing profile, and walk away knowing your station is in compliance with all global loudness standards and recommendations, including EBU R128 and ATSC A/85.
ARC is ideally suited to regions and applications where multi-channel audio is not supported or required, and which require straightforward stereo loudness processing without the need for coded audio, audience measurement watermarking, external audio insertion, or many of the other advanced features found in our AERO-series processors.
Broadcasters on a budget no longer have to compromise between audio quality and affordability, as ARC delivers the viewer-pleasing audio for which Linear Acoustic has become famous, but at a very approachable price point.
ARC supports up to four independent audio programs via AES, SDI, and Livewire+ AES67 I/O, making it fully compliant with SMPTE 2110.
Its easy-to-use web-based user interface ensures a simplified remote experience on any device, browser, or OS. Loudness logging for each program is included for compliance verification as a .csv file.
Want to see these products in person? Visit our IBC landing page and make an appointment today!
Follow along with us at the show with our live video feed direct from the Telos Alliance stand!
Further Reading
Get more details on VX Enterprise, VX Prime+, and Pathfinder Core PRO on their product pages:
VX Enterprise Broadcast VoIP Phone System
VX Prime+ Broadcast VoIP Phone System
Axia Pathfinder Core PRO VM & Appliance
Linear Acoustic ARC Automatic Realtime Control
Telos Alliance has led the audio industry's innovation in Broadcast Audio, Digital Mixing & Mastering, Audio Processors & Compression, Broadcast Mixing Consoles, Audio Interfaces, AoIP & VoIP for over three decades. The Telos Alliance family of products include Telos® Systems, Omnia® Audio, Axia® Audio, Linear Acoustic®, 25-Seven® Systems, Minnetonka™ Audio and Jünger Audio. Covering all ranges of Audio Applications for Radio & Television from Telos Infinity IP Intercom Systems, Jünger Audio AIXpressor Audio Processor, Omnia 11 Radio Processors, Axia Networked Quasar Broadcast Mixing Consoles and Linear Acoustic AMS Audio Quality Loudness Monitoring and 25-Seven TVC-15 Watermark Analyzer & Monitor. Telos Alliance offers audio solutions for any and every Radio, Television, Live Events, Podcast & Live Streaming Studio With Telos Alliance "Broadcast Without Limits."
Subscribe

If you love broadcast audio, you'll love Telos Alliance's newsletter. Get it delivered to your inbox by subscribing below!