Fairbanks' KQHE Radio proves you don't have to be big to sound big | Telos Alliance
By The Telos Alliance Team on Aug 23, 2013 1:11:00 PM

Fairbanks' KQHE Radio proves you don't have to be big to sound big.
Mention Axia installs to most engineers and they'll usually conjure up images of multiple Element consoles, engines, nodes and processors all linked together with Livewire. But KQHE 92.7 in Fairbanks, Alaska is living proof that you don't need to be nearly that big to reap the benefits of IP audio with Livewire. The newest radio station in The Last Frontier is starting out with one Axia DESQ console, an Omnia ONE FM processor, Telos Z/IP ONE IP codec and an Hx1 phone system. That's it.
Axia's Audio over IP solutions work for radio stations large and small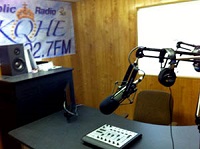 For Jason Sagers, VP and engineer for KQHE, and for owner Little Flower Ministries, the expected September launch of the station marks the end of an 8-year journey. The story begins with Sager's relationship with John Bisset, Telos' Director of Western Radio Sales. "John and I had been talking about audio processors for the station, and he recommended the Omnia ONE," recalls Sagers. "When I checked it out on the web site, I discovered that Telos made lots of other cool equipment. I also liked the simplicity of how it all could all be linked together with Livewire connections. It just seemed to make a lot of sense."
Although KQHE may be the newest and smallest station in Fairbanks, their Axia gear has garnished a lot of attention from other area broadcasters. "Contract engineers who have visited our studio have expressed a keen interest in the Axia gear. Even though we're one of the smallest operations, our technology is way ahead of most other stations in the Fairbanks market., and they feel like they need to catch up." He adds that while some have offered to help, installation has been so simple that no assistance has been necessary.
Sagers wears two hats. When he is not VP and Engineer at KQHE, he's a field service tech for the FAA, often traveling to remote villages to repair and maintain navigation equipment. Until he started work on KQHE, he had no broadcast and limited IT experience. "One of the things that appealed to me about Telos-Axia is that Livewire is largely a plug-and-play medium, and I've taught myself about broadcast engineering along the way." From out of the box to ready to broadcast took Sager about two months. And it wasn't finished a moment too soon.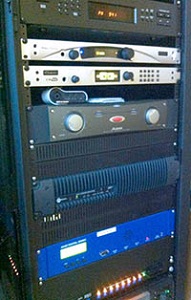 While most of us in the lower 48 states can look forward to another one or two months of warm weather, the beginning of September means that winter is fast approaching in Fairbanks. Sagers needed to make sure all the FM antenna and other outside work was complete. As plans were being finalized for the STL, he began to have doubts. "We had line-of-sight to the transmitter, but it was marginal. I talked to our ISP, and watched a YouTube video from Telos. The Z/IP ONE IP codec began to look like a better solution than a conventional RF STL." The desire to have an end-to-end Livewire installation also led Sagers to purchase a Nautel VS2.5 to broadcast the 2 Kw, 92.7 signal. Every Nautel transmitter is Livewire-ready, right out of the box.
Quick Response Time from Telos Technical Support
Sagers describes the level of tech support he has received from Telos as 'fantastic.' "All companies claim to have great support, but sometimes that turns out not to be the case. I was also a little concerned because of the four-hour time difference between Alaska and the East coast," he explains. "But whenever I called or e-mailed, I either got an immediate response, or someone got back to me within 20 minutes. Since all the equipment is IP-based, they are able to log into it remotely and see what is going on right away."
While KQHE is starting small with Axia, they don't plan to stay that way for long. The station is an affiliate of EWTN, the Global Catholic Radio Network. Sagers notes that initially most of the programming will be streaming EWTN's content, but eventual plans are to incorporate more local programming. "There are 55 parishes spread across Alaska," Sagers explains. "We want to expand our operations to include them all, even the small villages in remote locations."
He is also quite pleased with the growth potential of Axia and Livewire. "The simplicity of Livewire, the modularity of the equipment, and the ease with which it all goes together means that we'll be with Telos for the long haul. There's a certain wisdom that comes from choosing the proper equipment, and it's good to know that other stations are envious of us."
Telos Alliance has led the audio industry's innovation in Broadcast Audio, Digital Mixing & Mastering, Audio Processors & Compression, Broadcast Mixing Consoles, Audio Interfaces, AoIP & VoIP for over three decades. The Telos Alliance family of products include Telos® Systems, Omnia® Audio, Axia® Audio, Linear Acoustic®, 25-Seven® Systems, Minnetonka™ Audio and Jünger Audio. Covering all ranges of Audio Applications for Radio & Television from Telos Infinity IP Intercom Systems, Jünger Audio AIXpressor Audio Processor, Omnia 11 Radio Processors, Axia Networked Quasar Broadcast Mixing Consoles and Linear Acoustic AMS Audio Quality Loudness Monitoring and 25-Seven TVC-15 Watermark Analyzer & Monitor. Telos Alliance offers audio solutions for any and every Radio, Television, Live Events, Podcast & Live Streaming Studio With Telos Alliance "Broadcast Without Limits."
Topics: Axia Audio, Omnia Audio, Radio Audio Processing, Radio Consoles
Subscribe

If you love broadcast audio, you'll love Telos Alliance's newsletter. Get it delivered to your inbox by subscribing below!