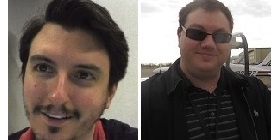 Meet John (JP) Powell and Joe Bonadonna - the latest additions to the Telos Alliance 24/7 Support team. JP & Joe come on board with a wealth of experience in broadcast engineering, audio production, and the broadcast industry in general. Read on to get the details on our new tech gurus!
With a strong musical and technological upbringing, JP started building recording studios in high school, back when tape was still available. In college, JP worked in the music school's recording studio as a classical and jazz recording engineer. By then computer recording was the norm and the learning curve was (and still is) intense. There were also countless open reel tapes to transfer, so he fit right in. During that time, JP joined the staff of WCSB at Cleveland State University, where he was introduced to the Axia Livewire system. There, he was asked to act as Assistant Broadcast & Audio Engineer, and is still a member of the production staff. JP has built many in-studio installations and mobile recording rigs, as well as assisted in equipment upgrades at the radio station, and is happy to join the Telos family.
Joe has been involved in the broadcast business pretty much since he began to crawl. Joe's father worked for legendary Philadelphia station WMMR for 30 years! Joe runs his own media company, which specializes in the installation of digital studios, and also hosts a nationally syndicated radio show from his home studio in Philadelphia. Joe has served as the midday air talent on XM Satellite Radio's channel 29 UPOP, and has hosted a weekend specialty show called "U Pick the UPOP," which was satellite radio's only global request show. Prior to XM, Joe was an on-air talent in Phoenix, Arizona, a morning show producer and host in Philadelphia, and a network producer for sporting events. Joe has also taken the Program Director chair quite a few times for both satellite and terrestrial stations.
Welcome JP & Joe!
Topics: Telos Alliance 24/7 Support
Subscribe

If you love broadcast audio, you'll love Direct Current! Get it delivered to your inbox weekly!