The Man on the Front Lines of Telos IP Telephony
By Dave Sarkies on Dec 2, 2015 2:55:00 PM
Joe Talbot has spent a lot of time as a technologist in the broadcast industry, and has an extensive background in the Navy. As a Product Manager for the Telos Systems division of The Telos Alliance, Joe has a wealth of knowledge in the realm of Broadcast Telephony including IP phones VoIP technology. Joe recently sat down for a chat regarding the latest in IP phone tech, and discussed his dual career as broadcast engineer and military professional.
There's a lot going on with IP phone technology these days, due to the overwhelming acceptance of VoIP (Voice over IP) by Fortune 500 companies. "A few years back, we'd been looking at what our colleagues needed to create great broadcasts and it became clear to us that VoIP was the future so we created the products broadcasters needed. Acceptance is huge," Joe says. "It's being adopted quickly and learned faster than I expected. Since we started shipping systems, it's become clear that we needed something for smaller stations, and also for the largest ones! New products have been under development for a while now and we're just about there."
Joe is clearly keeping himself busy with the latest in the world of IP phones. But then, Joe's a guy who's always been busy with something or other. Joe's career spans both broadcast engineering and the military, and the two have even managed to cross paths from time to time. Joe put his broadcast knowledge to good use in the Navy… including the time he recovered a lost $50,000 sonar lying on the bottom of the Indian Ocean.
"We had a Remote Operated Vehicle (ROV), wh
ich is a tethered underwater robot with video cameras and a mechanical arm. We fastened a hand-held sonar unit to the body and I balanced the audio output so it would run up the 1,200-foot umbilical cable without picking up hum and noise from the conductors and motors." Joe says the techs that were "driving" the ROV were able to easily find the unit on the sea floor and use the arm to attach a line to it. "They were amazed how clean the audio was. We pulled it up to the surface. I had to scavenge parts from an old radio since we weren't close to a radio shack."
His work with underwater vehicles has also led Joe to more dangerous missions. In 2001, he had been in the Naval Reserve running a development program for underwater vehicles when he received a phone call. "Just after 9/11 I stopped into work to pick up a book. The phone rang and my life changed forever. I was told to report for a year of active duty in the morning. That year turned into three and an Iraq deployment."
It turned out the Navy wanted to use the underwater vehicles in Iraq. "I got a new wardrobe – body armor – and shipped off to Iraq. Our system was the first "UUV" used in a wartime situation to clear mines from a port in Southern Iraq."
Fortunately, Joe hasn't been placed in quite so much danger as a broadcast engineer. Not that it hasn't come with its challenges, of course.
"I started out at KWIZ in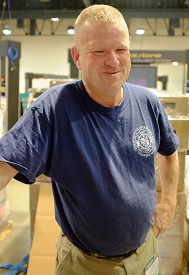 Santa Ana, California. We had a 5 kw AM and a Class A FM. I was able to build a new AM directional array and a new FM site. I was 17 when I started there and completely in over my head. I was hooked and learned the business by sharing ideas with friends and forgoing unnecessary things like... sleep."
Joe did a lot of contract engineering in the '80s and '90s, and met Steve Church through a friend in the days before Telos. "Steve used to call at odd hours and our calls would last until dawn frequently. Telephone hybrids (that worked) were quite a challenge in those days and many ideas were shared and tried. Steve asked me to handle some of the more complex installations across the country. It was great fun! I learned a lot and met a lot of the industry's top talent."
Right now Joe is busy working on a presentation he's looking forward to giving at NAB 2016 on Telos Systems' work with legendary talk show host Art Bell. "We tried some new ideas with great success and his new show is growing quickly."
Telos Systems is still the best way to hear from there, and Joe says there's a lot in the works… "The phone network is changing more rapidly than ever before, and this is a very exciting time to be doing what we're doing. We have lots of things in the pipeline."
Topics: Telos Systems
Subscribe

If you love broadcast audio, you'll love Telos Alliance's newsletter. Get it delivered to your inbox by subscribing below!