Modular Audio Automation Saves Media Companies Time and Money | Telos Alliance
By The Telos Alliance Team on Jul 28, 2022 2:42:26 PM
Modular Audio Automation Saves Media Companies Time and Money
AudioTools Server now offers new audio automation modules to solve clients' specific audio workflow bottlenecks.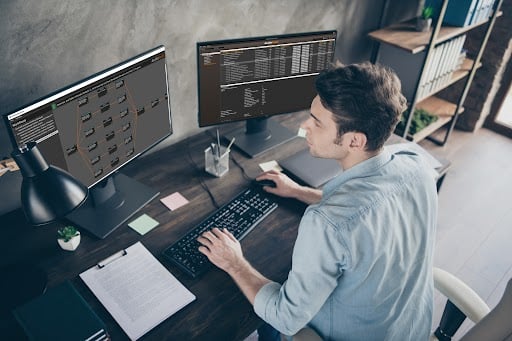 As a media company, when you find a secret weapon, you don't necessarily want your competitors to know about it. That's why AudioTools Server is one of the best-kept secrets in the industry. Media companies have complicated workflows and many points of distribution that all have different requirements, not the least of which are slight variations to the audio part of the content. AudioTools Server brings decades of audio know-how right into your current workflow using highly specialized and purpose-built integration to solve every audio problem before they get out of control. Media companies love AudioTools Server because it puts quality first and saves them countless hours of labor by automating sophisticated audio tasks for file-based content in cable, satellite, OTT, terrestrial and IPTV, radio, and post-production facilities. Some of the biggest media conglomerates in the world use AudioTools Server for audio automation.
Flexible, Modular Approach to Audio Workflows
Aside from its time- and money saving capabilities, AudioTools Server's popularity among media companies is due to its flexible, modular nature when it comes to automating audio workflows. It can be used dynamically on-prem or in the cloud. As a pure software platform running on commodity hardware, including VM or cloud deployment, it's flexible and customizable, allowing for new audio workflows as requirements inevitably change. Its modular approach to audio workflows means users pay for only what they need. Telos Alliance continually responds to clients' pain points and the needs of the market to develop AudioTools Server modules that solve workflow bottlenecks. Here, we discuss some of AudioTools Server's more popular modules that are helping media companies all over the world save time and money with modular audio automation.
AutoMix Automates Audio Workflows for Audio Description & More
The new AudioTools AutoMix module was originally developed for a large Canadian media conglomerate that needed to add Audio Descriptions to thousands of hours of content to meet government regulations, requiring a new audio automation approach over traditional sound mixing, which is expensive and time-consuming. (Read the full case study here.)
The AudioTools AutoMix module intelligently mixes two audio tracks together. The two audio tracks are designated as either "Lead" or "Bed." The Lead audio is typically a dialog-only track, such as the raw Audio Description voiceover track, while the Bed track is typically the original audio mix that the Lead audio is to be mixed over. While the AutoMix module was developed for the creation of Audio Descriptive mixes, the technology could just as easily apply to other situations where you are mixing a voiceover track over another audio track, such as in the creation of Promos or Trailers. Unlike some other audio automation solutions, with AutoMix there's no need for any control tracks, the module will analyze the input audio and automatically reduce the Bed track's audio levels whenever audio is present in the Lead track, bringing them back up when it has finished. This means that during sections of loud audio in the original mix, the described voiceover is still clearly audible. Likewise during soft sections of the Bed audio track the Lead track voiceover is never too loud. AutoMix also allows for control of the fade settings so users can tailor the mix as they want it.
Channel Assignment Detection Automates Sorting Content From Different Sources
The AudioTools Channel Assignment Detection module is a powerful tool and is a great addition to the AudioTools Server toolbox when you have content coming in from many different sources. Where in the past you would have had to manually check each incoming file to determine what audio tracks are on it, Channel Assignment automates this and does the work for you. The module works by analyzing the audio properties of each channel of the incoming audio and comparing things like loudness level and frequency range to identify likely channel groupings.
Once the audio has been analyzed, the results are compared against dozens of different profile mappings to determine the likely audio layout. When a match is found the Channel Detection workflow will typically assign the audio a profile number. This number could then be used to drive further AudioTools logic and processes, or reported directly back via the API to a MAM or an application like Telestream Vantage.
Frame Rate Toolbox Saves Time with Re-Timing Audio Workflows
The AudioTools Frame Rate Toolbox module is a suite of tools used primarily for audio re-timing. The module comprises three functions: Time Stretch, Pitch Shift, and Sample Rate Conversion. Time Stretch is used for adjusting the speed of the audio and can be done both with and without pitch correction. Pitch Shift adjusts the pitch of the audio, while preserving the original duration. Finally, Sample Rate Conversion allows you to convert the audio to a different sample rate (for example, 44.1kHz input converted to 48kHz output).
By far the most common use case for Frame Rate Toolbox is, as the name implies, with frame rate conversion. A typical scenario would see the customer sending AudioTools Server a source audio file at the original frame rate (for example 23.98fps) and having the system convert it to a new frame rate (for example 25fps) using Time Stretch, maintaining the pitch of the original source. The converted audio would then be married back with the video.
Another common use case for the module is using the Time Stretch process to alter the speed of the audio in order to make the audio duration match a desired length. This approach has been used by a number of Radio customers, where they may be receiving content from a variety of sources and need to ensure it fits within a target time slot.
Audio Workflows for Dolby Using the AudioTools Server Dolby Digital Encoder
The AudioTools SurCode for Dolby Digital Plus Encoder module is our Dolby certified tool for encoding all things Dolby Digital. The module supports encoding to Dolby Digital (.ac3) and Dolby Digital Plus (.ec3) formats. Since 2020 the module also supports encoding to Dolby Digital Plus with Dolby Atmos ("DD+JOC").
The Dolby Digital Plus Encoder can either be used as a standalone encoding tool in AudioTools Server, or combined with other AudioTools processes, such as loudness processing and upmixing for full end-to-end workflows. The full range of supported bit rates and metadata settings are available. Metadata settings can either be hard-coded into the workflow, or could be derived from upstream information. An example of this is a workflow that takes a Dolby E bitstream and converts it to a Dolby Digital .ac3 file, but preserving the metadata held in the original bitstream.
The AudioTools Server Dolby Digital Encoder also now includes Dolby Digital Plus with Dolby Atmos encoding. This utilizes Dolby's Encoding Engine (DEE) to create Dolby Atmos .ec3 and .mp4 files. The Atmos encoder takes as input either a Dolby Atmos master file set (.damf), ADM BWF file or 5.1.4/9.1.6 PCM WAV file. Where these aren't available you can use the AudioTools Upmix module to take legacy 2.0 or 5.1 content and upmix it to either 5.1.4 or 9.1.6.
VST Plug-In Host Frees Up Audio Suites Via Automation
Have a particular compressor or EQ plug-in that you would like to use in an audio automation workflow? Did you know that AudioTools Server can be used as a VST plug-in host? AudioTools Server isn't a DAW like Pro Tools or Logic where you will likely tweak the plug-in settings on an audio-by-audio basis. It is, however, a perfect fit for those situations where you have particular plug-ins and presets that you apply to all incoming audio. Allowing you to batch process media offline and freeing up your audio suites for more creative work!
Do you have a specific bottleneck you need addressed that could benefit from audio automation or are interested in one of the audio workflows described here?
Contact Larry Deeds, Senior Director Of Enterprise Software Sales | Global at larry.deeds@telosalliance.com to learn more about how AudioTools Server Audio Automation can be used to free up blockages in your own workflows.
Telos Alliance has led the audio industry's innovation in Broadcast Audio, Digital Mixing & Mastering, Audio Processors & Compression, Broadcast Mixing Consoles, Audio Interfaces, AoIP & VoIP for over three decades. The Telos Alliance family of products include Telos® Systems, Omnia® Audio, Axia® Audio, Linear Acoustic®, 25-Seven® Systems, Minnetonka™ Audio and Jünger Audio. Covering all ranges of Audio Applications for Radio & Television from Telos Infinity IP Intercom Systems, Jünger Audio AIXpressor Audio Processor, Omnia 11 Radio Processors, Axia Networked Quasar Broadcast Mixing Consoles and Linear Acoustic AMS Audio Quality Loudness Monitoring and 25-Seven TVC-15 Watermark Analyzer & Monitor. Telos Alliance offers audio solutions for any and every Radio, Television, Live Events, Podcast & Live Streaming Studio With Telos Alliance "Broadcast Without Limits."
Subscribe

If you love broadcast audio, you'll love Telos Alliance's newsletter. Get it delivered to your inbox by subscribing below!