CEO Frank Foti on Disruptive Innovation at NAB 2016
By Frank Foti on Apr 28, 2016 10:42:47 AM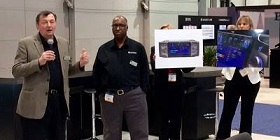 NAB 2016 is now in the books—another in the long list of exciting adventures we've experienced here at the Telos Alliance! Traffic in both of the Telos Alliance locations—Radio in the North Hall, TV in the South—was nonstop, with folks sometimes three-deep trying to get a look at our various offerings. In keeping with our mission of "disruptive innovation," the Telos Alliance radio division introduced µMPX. (
Download the µMPX one-sheeter here.
) This is a new technique for transporting the FM-Stereo composite (MPX) signal over an efficient data pipe. In a normal linear application, a connection that is more than 3Mbps would be required for an MPX path. µMPX is able to accomplish this using a 320kbps path! We do this with a newly designed, dedicated codec for the MPX signal. There is zero loss of peak control, and the audio quality is basically transparent. The µMPX display was live, and it incorporated a digital STL link provided by our friends at Moseley, which carried the signal over to the Nautel booth, where it was connected into one of their transmitters. At this time, we are finalizing some aspects of the tech, so our demo at NAB was essentially a preview. Keep your eyes peeled for more to come on this exciting development!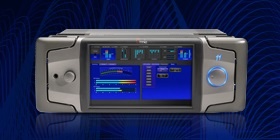 In addition to this cutting-edge radio tech, Omnia Audio introduced
GForce
, which is an optional upgrade for Omnia.11. How do you know it's GForce? The slick, all-blue GUI, of course (see image, right). Basically, it's like having a whole new processor, without the need for a whole new box. GForce evolved over many years of development by the Telos Alliance's Cornelius Gould, with a bit of input from yours truly! In a few short words, this firmware upgrade improves audio quality by further reducing dynamic intermodulation (IMD), as well as employing a brand new dynamic equalizer. This new function enables the processor to set the overall EQ for additional signature consistency. These additions to Omnia.11's dynamics section actually allow the processor to generate audio that sounds cleaner, more open, and— believe or not—LOUDER. Imagine that...louder
and
cleaner!
As of this writing, and while the embers are still cooling from NAB, we just received note that Omnia.11 was selected by a major state broadcaster, who was also testing one of the new (NAB 2016) offerings from a competitor. Omnia.11 was the unanimous choice, and this choice was made not even using the new GForce dynamics engine!
Another new Omnia.11 feature we introduced is the optional Perfect Declipper, designed by our friend and colleague Hans van Zutphen. The Perfect Declipper uses a revolutionary new algorithm to restore clipped areas in audio recordings, thus restoring dynamics, and removes distortion.
Cost of GForce is $985, and the Perfect Declipper is $495. In order to get these optional upgrades, you'll need to be running the latest version of Omnia.11—version 3.0—which we also previewed at NAB 2016. Version 3.0 adds RDS and a flexible patch-point for those who wish to insert their Voltair system within their audio processor. The v3.0 update is free. We'll provide more details as we get closer to releasing GForce, the Perfect Declipper, and Omnia.11 v3.0.
In the meantime, get on the Omnia.11 mailing list to be updated on developments and release dates here
.
I

n addition to this major news from the Telos Alliance, there were many other new products and technologies to see from all of the Telos Alliance product lines—like the
Omnia.7AM
, 25-Seven's breaking
Voltair M
, and the now-shipping
Z/IPStream R2 Stream Encoder and Processor
. Lots of interest was afloat over new functionality with our Axia Audio Fusion consoles—courtesy of European dealer
IP Studio
—in which you can embed a tablet PC into the console surface, eliminating at least one large monitor from your studio (more on this in an upcoming blog).
On the TV side of the Convention Center, things were equally as exciting. Over at the Linear Acoustic and Minnetonka Audio booth, there was much discussion about audio products available in the cloud, as well as some new television audio processing features.
Check out the Telos Alliance NAB Wrapup from our TV division here
.
In all, it seemed like we were inundated with customers who came by to visit, check out what's new, and just catch up. Always a pleasure to reconnect with the wonderful people we've worked with over the years. Here's to a great show, and a great rest of the year as we ride the buzz from a successful 2016 NAB! See you at
IBC 2016
in Amsterdam this September!
Topics: NAB Las Vegas
Subscribe

If you love broadcast audio, you'll love Telos Alliance's newsletter. Get it delivered to your inbox by subscribing below!