Partner Highlight: Keeping Time with Voceware
By Dave Sarkies on Jun 7, 2017 1:30:00 PM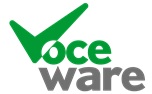 The Telos Alliance is proud to list nearly 100 manufacturers of broadcast hardware and software among our Livewire partners, partners whose products integrate with the world's first and most popular AoIP networking system. Here, we profile one such partner; Voceware, who joined the Livewire program in late 2015.
Voceware is creator of innovative, robust time-keeping software for the broadcast industry whose VClock interfaces seamlessly with Axia via Livewire GPIO. Their beautiful clocks and full suite of completely customizable information systems are used by many leading broadcasters, ensuring presenters never get a time check wrong. All the while, on-air guests are wowed by the custom branding inside and outside the broadcast studio. VClock customers range from small community operations and hospital radio stations to local stations and large national broadcasters.
Voceware was the brainchild of Chris Voce, who conceived the idea because he was constantly in radio studios with clocks on the wall telling the wrong time! "Or more often clocks were NOT on the wall because they were on the window ledge trying to get a signal from 'Rugby,'" says Chris. (Rugby is a low-frequency time signal transmitted originally from the town of Rugby near the center of the U.K.)
"The traditional solution was an analog clock on a pattress, with several mains-powered lamps for indications such as mic live, phone ring, studio on-air, and so on," Chris explains. "I thought so much more could be achieved with a PC screen, and VClock was born."
Chris says VClock started out as a clock face with eight lamps in a fixed layout that could be controlled by a game port, but quickly grew to support almost any protocol. It is now fully configurable, supports 32 lamps, Advantech GPI cards, serial, IP Client/Server connections, HTTP Posts/Gets, SNMP Traps, and more. Additionally, it has a built-in browser to display webcams and custom pages, and it interfaces natively with many industry-standard broadcast consoles. Most excitingly, it has full support for the Livewire GPIO protocol.
"VClock is a simple addition to any Axia studio," Chris adds. "A simple tick in a checkbox enables the Livewire GPIO Multicast feature, which then receives every GPIO signal on the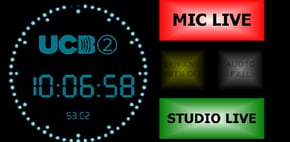 Livewire network." Simple 'salvo' entries in VClock can then tell it to act on specific GPIOs, from turning a mic live lamp on to completely changing the look of the clock to match a station's branding.
VClock's sister product, VMeters, can read audio levels from an Axia xNode and relay them to other copies of VMeters across a LAN or WAN. Nearly instantaneously meters can confirm whether a remote transmitter is on-air, and if not can send alerts and tell VClock to flash a lamp in the studio.
Chris first wanted to work in radio when he was in school, helping out at the local hospital radio station to rebuild its studios. He wrote to the local BBC Engineer-In-Charge and asked how to get a job at the BBC. "He basically said don't bother— it will never happen," Chris laughs. "He suggested I get a degree, which is what I did."
After getting his degree and performing installations at several commercial stations, Chris was hired by RCS, where he stayed for 22 years, before he left to go to Broadcast Bionics. He developed VClock as a side project in his spare time over the years, marketing it as time allowed, and over time, broadcasters began to bite. Now it's an important tool for many broadcasters across Europe and the Middle East.
Chris says Livewire integration is essential to the continued development of Voceware. "VClock was originally designed to be a simple clock and lamp solution for a radio studio. The Livewire support is a great selling point of VClock for mic live indications. In addition, the ability to control external equipment in the new Livewire+ AES67 has opened up an entirely different use case. The new xNode firmware is a fantastic development and we are very proud to be one of the first to use it."
We're happy you're so thrilled with Livewire, Chris! And we're proud to have Voceware on board as a Livewire partner.
Topics: Livewire Partners, Telos Alliance Partners, Voceware
Subscribe

If you love broadcast audio, you'll love Direct Current! Get it delivered to your inbox weekly!