Guide Your Audio Home with Pathfinder
In a recent blog post, Pathfinder developer Dan Bays gave us a little background on the history of Axia Audio's routing control system, and explained a bit about virtual routers and protocol translators along the way. Now Dan's back with a still more detail on this essential software suite, and explains how Pathfinder stacks the odds of proper routing of quality audio in your favor.
Stack Events
Stack events are one of the most powerful tools in the Pathfinder arsenal. These allow the user to create any kind of custom logic they want. While scripting is possible in Pathfinder, stack events have made the need to write custom scripts few and far between. The Administrator

of the system can simply drag and drop icons that represent a host of changes into simple condition and action lists. If all of the conditions are met then the actions are executed. This allows any kind of custom logic no matter how simple or complex to be created and executed simply. The conditions include things like console button pushes, LCD button pushes, GPIO signals, route changes, audio silence alarms, device failure states, console fader changes, virtual mixer changes, and a whole list of other conditions and actions. This allows systems to be fully customized. When coupled with custom panels as described in the next section of this article, the user can create a completely customizable experience. The power, breadth, and limits of what can be accomplished with stack events are not only vast, but accomplished with simple drag and drop components. This is one of the most powerful jigs in our tool box and it has only become richer and more useful through the experience of solving thousands of customers' specific needs.
As an example, since Pathfinder also knows how to talk to other Pathfinders, one of our customers has used these capabilities to create a national network. With Pathfinders in each city talking to each other they are able to dynamically change the audio and GPIO signal chain between cities. They even have created a cross-city intercom system by using Pathfinder to control GPIO and audio signals. This can all be controlled by simple-to-use software or hardware buttons.
Panels
For most of Pathfinder's history we have supported designing your own panels. While our user interface tools are powerful, they are nothing compared to what our customers have designed on their own. More importantly, if you use the stack event logic, you can create simple button pushes that do complex cross checking and actions under the hood. In one of our earliest installs, we used custom panels to create a set of buttons for the customer. One of those buttons in particular when pressed underwent almost 20 stages of checks and crosschecks of the states of audio, GPIO, and other signals before making intelligent decisions regarding where custom id breaks were supposed to be sent. The user presses one button. Under the hood a small factory of decisions takes place, actions are completed, and the button displays the successful text and color. This is only possible with a system that is talking to and monitoring the entire system. We have found that you cannot predict what combination of logic and user interface any customer might want so we need to be prepared to act upon and execute a combination of signals from any and all pieces of equipment in the system, often in ver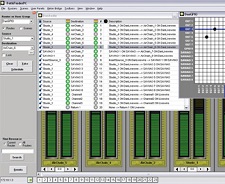 y unique ways. This tool, coupled with stack events, allows the user to create any user interface they want with any logic under the hood. It can be as simple as mapping a route change to a button or as complex as what we have described above. These custom panel controls can also be mapped to physical buttons on button panels and consoles. The tools are designed to be simple but to expand to any needs. Panels can be designed by dragging and dropping components including buttons, meters, faders, clocks, labels, and web browsers onto a palette. Once the design is created, these panels can then be used as their own application to present information in a way that makes the most sense to your users for your application.
Redundancy
I would be remiss if I did not mention redundancy. Pathfinder has been designed around redundancy. If clustering is implemented, the client applications are automatically load balanced between redundant servers, and the functionality can detect its own failures and hand off control between servers. In addition, we have added tools that help to make automation system redundancy easier as well.
And...
The possibilities listed above are a small fraction of what is possible with PathfinderPC, and we are always happy to do a more in-depth demo. Our years of experience designing custom control applications have helped us to create a product to handle virtually any need. And while its power can be daunting, our crack support staff knows not only how to help you get the job done, but to leave you more comfortable using it for your next great brain storm.
The Future
So leaving the best part for last – the thing that excites me the most about working on the PathfinderPC product can be summed up in one simple statement: We've only just begun...
Telos Alliance has led the audio industry's innovation in Broadcast Audio, Digital Mixing & Mastering, Audio Processors & Compression, Broadcast Mixing Consoles, Audio Interfaces, AoIP & VoIP for over three decades. The Telos Alliance family of products include Telos® Systems, Omnia® Audio, Axia® Audio, Linear Acoustic®, 25-Seven® Systems, Minnetonka™ Audio and Jünger Audio. Covering all ranges of Audio Applications for Radio & Television from Telos Infinity IP Intercom Systems, Jünger Audio AIXpressor Audio Processor, Omnia 11 Radio Processors, Axia Networked Quasar Broadcast Mixing Consoles and Linear Acoustic AMS Audio Quality Loudness Monitoring and 25-Seven TVC-15 Watermark Analyzer & Monitor. Telos Alliance offers audio solutions for any and every Radio, Television, Live Events, Podcast & Live Streaming Studio With Telos Alliance "Broadcast Without Limits."
Subscribe

If you love broadcast audio, you'll love Telos Alliance's newsletter. Get it delivered to your inbox by subscribing below!