TWiRT 332 - Permafrost and Air Conditioning with John Antonuk
By Kirk Harnack [TWiRT] on Jan 13, 2017 1:00:00 PM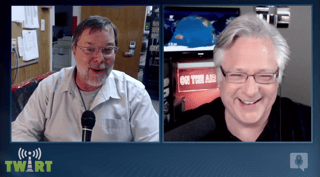 How do you keep equipment operating when the temperature changes by 150 degrees? John Antonuk keeps 4 radio stations running year-round in Fairbanks, Alaska. And that's pretty impressive when you consider the harsh - and varying - conditions. John joins Chris Tobin and Kirk Harnack on This Week in Radio Tech.
Guest: John Antonuk - Chief Engineer, iHeartMedia, Fairbanks, Alaska
Hosts:
Chris Tobin, IP-Solutionist
Kirk Harnack, The Telos Alliance, Delta Radio, & South Seas Broadcasting
Show Links:
And, just where is this studio in Fairbanks?
Simulsat receive antenna brochure
AMC-8 Satellite Service Migration
Watch the Video!
Subscribe

If you love broadcast audio, you'll love Direct Current! Get it delivered to your inbox weekly!