Personalized Sound Experience Workflows - A Special Presentation | Telos Alliance
By The Telos Alliance Team on Nov 1, 2022 1:41:15 PM
Personalized Sound Experience Workflows - A Special Presentation
This workshop is organized by the EBU PSE group. It is held to explore personalised sound experiences production and distribution using end-to-end workflows provided by Dolby and Fraunhofer IIS.
ON THE AGENDA
EBU members have started to explore and adapt NGA (Next Generation Audio) technologies for quite some time and created real-life and best-practice pilots that proof feasibility.
These include radio/audio-only, cross-media web and app implementations as well as file-based video and live production within a networked SMPTE ST-2110 environment.
NGA enables unique opportunities and features: multiple language commentaries, adaptive speech intelligibility, additional Audio Description and immersive sound. And this without the need to generate multiple mixes in parallel but to create and deliver them all in one.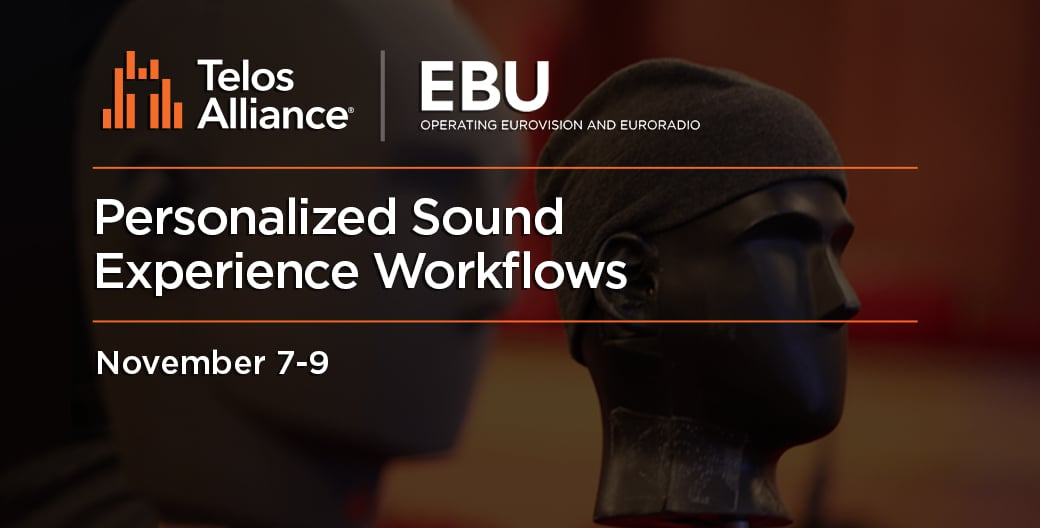 In addition to respective field reports, participants will have the unique opportunity to explore this in practical and creative hands-on sessions. Questions of encoding, provisioning and delivery will be covered, too.
Please note
Only EBU members can participate in the workshop.
Please forward this invitation to interested colleagues
This is a unique to explore NGA production tools and workflows
Developers from BBC, Dolby and Fraunhofer IIS are present - so ideas and requirements can be discussed with them
This is a physical presence workshop!
Who's its for?
Creatives, Technologists, Sound engineers, Tonmeister, Producers, Infrastructure and Workflow architects, EA Domain Managers
Telos Alliance has led the audio industry's innovation in Broadcast Audio, Digital Mixing & Mastering, Audio Processors & Compression, Broadcast Mixing Consoles, Audio Interfaces, AoIP & VoIP for over three decades. The Telos Alliance family of products include Telos® Systems, Omnia® Audio, Axia® Audio, Linear Acoustic®, 25-Seven® Systems, Minnetonka™ Audio and Jünger Audio. Covering all ranges of Audio Applications for Radio & Television from Telos Infinity IP Intercom Systems, Jünger Audio AIXpressor Audio Processor, Omnia 11 Radio Processors, Axia Networked Quasar Broadcast Mixing Consoles and Linear Acoustic AMS Audio Quality Loudness Monitoring and 25-Seven TVC-15 Watermark Analyzer & Monitor. Telos Alliance offers audio solutions for any and every Radio, Television, Live Events, Podcast & Live Streaming Studio With Telos Alliance "Broadcast Without Limits" "Love What You Hear"
WHAT WE DO
We don't just make audio products. We're your partner on your audio journey, delivering solutions that meet the challenges you face head-on. So you can spend less time solving problems and instead focus on creating the most exciting audio experiences imaginable. With Telos Alliance, you—and your audience—are going to Love What You Hear.
Subscribe

If you love broadcast audio, you'll love Telos Alliance's newsletter. Get it delivered to your inbox by subscribing below!