Plenty of Reasons to Love Axia for Florida's WFCF | Telos Alliance
By The Telos Alliance Team on Jun 17, 2015 3:45:00 PM

Plenty of Reasons to Love Axia for Florida's WFCF
Radio veteran Dan McCook is Station Manager at WFCF - Radio with a Reason - at Florida's Flagler College, with studios in historic St. Augustine - quite the unique setting for a modern broadcast facility. "We have our own little radio station on the first floor of a building in middle of the historic district," says Dan. "We have horse and carriages going by the window all day long and it looks like we live in the 1700s!"
Dan has been with WFCF from the start, going back to 1993 when they first signed on the air. "Our first broadcast was November 1, 1993. The station is a 10,000 watt, non-commercial educational radio station."
Reaching about 50,000 listeners a week, WFCF is totally independent. "The reason the station was created," Dan explains, "was for the Communications Department at Flagler College, as what is known as an experiential learning opportunity."
While Dan is the station manager, the students have significant input, including in the form of a Student Station Manager - a position currently held by Maddie Schmitt - who's looking toward a career in radio.
Like a commercial radio station, WFCF has a Music Department, Production Department, Sports Department, Social Media Director, Operations Manager, and Promotions. As Dan says, "Everything you would find in a commercial station, the students perform these jobs."
At the time we spoke with Dan, WFCF had just landed interviews with Jose Feliciano and alternative rock band Wilco, while one student was preparing for interviews with several alternative rock bands at an upcoming music festival in Tampa. Student personnel have also had the opportunity to interview the likes of Bill Murray and the legendary B.B. King.
Radio with a Reason
Dan points out that the great thing about a station such as this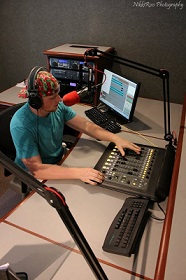 is that if the student employees have an interest in pursuing a career in radio or TV, they learn what it's like to work in a professional broadcast environment. "When they walk in the door, they know what's going on."
And don't let Wilco fool you - it isn't strictly college rock at WFCF. Though that is the staple during the week, Dan explains, "We are a block-formatted station. As a matter of fact, we have 15 formats." During the week he blocks feature not only alternative rock, but classical, jazz, and more. The weekends are even more diverse. "On the weekends everything from Americana, blues, bluegrass, reggae, Irish... You name it, we got it!," says Dan.
You can view a program guide on the WFCF Facebook page.
It's this diversity that has made WFCF recognized for its eclectic programming. In 2012, the station was selected by the Princeton Review as one of the top 20 college radio stations in the nation. "There are about 1,450, and we were 17th!," Dan beams. "Because of that then-Clear Channel Communications invited us on iHeart, so we're broadcasting on iHeartRadio."
As Dan sees it, that's how independent radio was meant to be. "The FCC edict to non-commercial stations is to challenge the listener. They don't tell you how to do that. So the easiest way to do that if you have no money is to just play a wide variety of programming."
Why Axia? They've got their reasons.
So what consoles do they use at WFCF? Axia, of course! Dan explains they did a little research, then connected with Broadcasters General Store, an Axia dealer, and the decision was simple.
"Flagler [College] bought us our own little building... So we have this new facility, so we started planning on equipment, and our engineer, Alan Alsobrook, had already done some research on the Axia boards and he highly recommended them." They contacted Broadcaters General Store, an Axia dealer, and ordered the boards. "Broadcasters General Store - I can't say enough good things about them - and no, I'm not getting a discount," says Dan.
And Axia?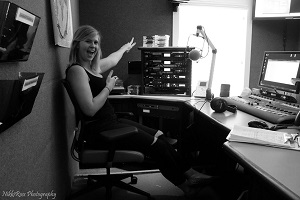 "Everything in our station now we built from the ground up. It's rare that a radio station has all the same equipment at the same time - usually you have different boards in different studios and things have been patchworked together - but we have all Axia boards in all three studios, in our control room, and in production rooms A and B."
WFCF was the proud recipient of some of the very first iQ consoles and QOR console engines off the line, and they've been thrilled with them from the get-go. So what is it they love so much?
"I've been in radio since 1974... I have worked a lot of broadcast boards," Dan says. "The thing that is so nice is the ethernet system. Being able to produce something in A and when it's complete just shoot it to the control room and it's already on the air - that's nice."
Dan also points out that the control surfaces are easy to see, which helps students learn quickly, and they love the feel and texture, and how lightweight and compact they are. Additionally, the number of source assignments makes it really easy to change sources.
Clearly, when it comes to consoles, this radio station with a reason has plenty of reasons to love Axia. And we're thrilled to help them bring their brand of broad-appeal broadcasting to the northeast coast of Florida and beyond!
Telos Alliance has led the audio industry's innovation in Broadcast Audio, Digital Mixing & Mastering, Audio Processors & Compression, Broadcast Mixing Consoles, Audio Interfaces, AoIP & VoIP for over three decades. The Telos Alliance family of products include Telos® Systems, Omnia® Audio, Axia® Audio, Linear Acoustic®, 25-Seven® Systems, Minnetonka™ Audio and Jünger Audio. Covering all ranges of Audio Applications for Radio & Television from Telos Infinity IP Intercom Systems, Jünger Audio AIXpressor Audio Processor, Omnia 11 Radio Processors, Axia Networked Quasar Broadcast Mixing Consoles and Linear Acoustic AMS Audio Quality Loudness Monitoring and 25-Seven TVC-15 Watermark Analyzer & Monitor. Telos Alliance offers audio solutions for any and every Radio, Television, Live Events, Podcast & Live Streaming Studio With Telos Alliance "Broadcast Without Limits."
Subscribe

If you love broadcast audio, you'll love Telos Alliance's newsletter. Get it delivered to your inbox by subscribing below!