Punyed: Telos Alliance has Solutions for Mexico
By Dave Sarkies on Aug 20, 2014 2:27:00 PM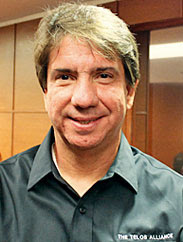 Professionals in Mexico have particular concerns about the audio over networks, says Juan Punyed, director of sales for Latin America and Canada for The Telos Alliance.
"Audio professionals [in Mexico] have doubts about networking, since networking is the world of IT and we are bringing conventional audio over IP networks. Questions arise regarding what type of switchers to use, what routers work well, and how Axia consoles interact within networks and how the settings are made."
The Telos Alliance recently conducted a product tour in the Mexican cities of Monterrey, Aguascalientes and Mexico City. Punyed says, "In a very simple and practical way it was explained to audio professionals what to look for and how to configure networks for this to work and be efficient."
He added, "We already have some solutions for these applications installed in Mexico. There are radio stations that have already invested in our Axia consoles, and have already installed several booths and studios. It is progressing well."
Topics: Radio Audio Processing
Subscribe

If you love broadcast audio, you'll love Direct Current! Get it delivered to your inbox weekly!