Radio Oberland Moves into the Digital Age
By Tom Vernon on Dec 10, 2014 1:16:00 PM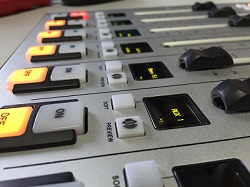 At the stroke of midnight on November 3rd, Radio Oberland moderators Theresa Pritschow and Simon Fritzenschaf signed off for the last time from the station's home for 22 years at Marienplatz 17. There were tears and some sadness, but also anticipation of a brighter future. The station's original analog equipment was showing its age, and it was time for the local broadcaster to move to a new location and join the digital age.
Radio Oberland began operations in 1992 in Garmisch-Partenkirchen with an FM signal covering southwest Upper Bavaria. Today, the station has a live audio stream, and broadcasts seven FM signals and 3 cable FM signals.
As plans for the new facility progressed, an upgrade from analog to digital equipment was an obvious choice. The decision was made to partner with The Telos Alliance for a turnkey Livewire installation. Axia software partner NexCast was contracted to build the new stu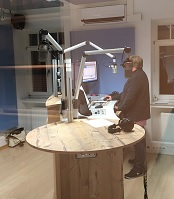 dios.
"NexCast is the service provider for the BLR in Munich," explains Stephan Geiger, NexCast's installer. "There we saw an Axia install in studios that were being built by P+P. We liked the tremendous flexibility of Axia and Livewire, as well as the ability to easily start small and expand the infrastructure as a station grows. It seemed like a great choice for Radio Oberland."
"This station is a small operation, and one of the goals was to keep it simple," adds Geiger. The station was built with two identical control rooms, serving as main and backup. One is used for daily on-air operations, while the second is for voice tracking and talk shows. An additional room houses all the rack-mounted equipment."
For the new Radio Oberland studios, NexCast installed two Axia iQ mainframes, two iQ 6 fader expansion frames, two AES/EBU xNodes, two 5-button film cap switch panels, four StudioHub headphone amps, and PathFinder routing software. Also in the installation was Zenon Media Cartwall for audio playout.
iQ control surfaces are a perfect place for small stations to start out with Axia. Each iQ studio is self-contained; you don't need to have a network connection (unless you want to). But when you want to, that's easy too: iQ Simple Networking lets you daisy-chain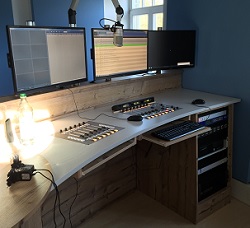 up to 4 iQ Cores without the need for an external Ethernet switch. You grow, it grows with you.
Geiger and two other engineers completed the installation, including cabling, installing rack equipment and configuring Axia and Zenon gear. Werner Gabel, the Telos service provider for Europe, assisted with configuration of Pathfinder. "From opening up boxes to on air took about three weeks," notes Geiger.
One unique aspect of this install is how Radio Oberland mounted their iQ consoles. While many users choose to set the consoles on the countertop in their desktop cases, Radio Oberland elected to remove them from the cases and flush mount them in the counter surface. Flush mounting is an option for Element, Radius, DESQ, and the new Fusion consoles as well.
Topics: Axia Audio
Subscribe

If you love broadcast audio, you'll love Direct Current! Get it delivered to your inbox weekly!