Running Livewire over IP Radio
By Clark Novak on May 5, 2013 3:31:00 PM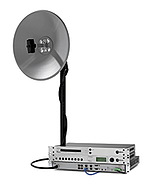 Learn how to run Axia Livewire for IP Radio.
Nigam Upadhyaya of Rajkot, India writes, "We have Telos Nx6 Talkshow Systems at both our studio and transmitter sites. They are connected with a wi-fi Motorola 5.8Ghz Canopy. Both work nicely with PSTN line and also IP setting. Can I connect via Axia Livewire on an IP based Canopy? If yes, than how would it work?"
Telos/Omnia/Axia Support Engineer Matt Rockwell replies, "Livewire over radio is possible and known installations are indeed doing this. The key points are as follows:
"A seamless Ethernet bridge protocol should be used.
"Only "Standard Stream" Livewire streams should be used. Each standard stream averages 2.5Gbit/sec bandwidth.
"The IGMP querier and Master Livewire clock should exist at the station, not the remote side.
"Any Livewire gear at the remote side should be set to Livewire Clock Priority of 0-STL."
There's a page on the Axia website that concerns connecting remote sites using Ethernet radios; we've listed some equipment that's known to work with in this scenario. Visit AxiaAudio.com/stl/ to read more about it.
Topics: Axia Audio, Audio Technology, Audio Engineering
Subscribe

If you love broadcast audio, you'll love Direct Current! Get it delivered to your inbox weekly!