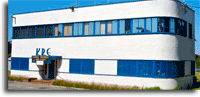 It has been dubbed the West Coast center devoted to all things radio. But today, the California Historical Radio Society (CHRS) is in danger of losing its headquarters. The beautifully-restored art deco KRE building that has been home to CHRS, the Bay Area Radio Museum (with its hundreds of vintage San Francisco airchecks, listenable on-line), and Hall of Fame for the past nine years, is being sold. The landlord has gone into bankruptcy, and CHRS must quickly raise $750,000 to purchase the building.
To date, the non-profit has raised about two-thirds of what's required, but they really need the help of individuals and corporations. CHRS recently gained a little breathing room when a petition to deny the completion of the landlord's bankruptcy was filed in New York. This means the deadline to raise the necessary funds has been extended - but not by much...
The KRE building was immortalized in the movie "American Graffiti" as the studio from which Wolfman Jack did his show, and today it's the site of many vintage radio and broadcasting activities. Along with the Bay Area Radio Museum, CHRS offers classes in radio history, restoration and repair, holds radio repair clinics, and restores museum artifacts in the site's fully equipped radio / TV repair shop. The vintage audio service digitizes audio from reel, cassette, LP, ET, 8 track, wire, 45s & 78s. Vintage radio collectors events are held regularly in the KRE parking lot. The site also houses the James Maxwell Communications Research Library, which has materials dating back to the early 20th century including the Archives of the Society of Wireless Pioneers. The organization's amateur station, W6CF, houses a fine collection of vintage ham, commercial & military gear. Help this historic piece of radio history stay 'on the air!'
Topics: Radio History
Subscribe

If you love broadcast audio, you'll love Direct Current! Get it delivered to your inbox weekly!