Silverball Madness in Las Vegas
By Clark Novak on Apr 8, 2015 2:44:00 PM
Those of us of a certain age fondly remember entertainment from the pre-computer days, a time when amusement parks, convenience stores and other entertainment establishments did not have video games, computerized entertainment centers or full-wall videos – no, we had pinball: bright, flashing, noisy, shiny electro-mechanical pinball machines. Magic devices that consumed both hours and quarters like a pro wrestler consumes breakfast; many of us spent too much time to count in front of these machines, until our empty stomachs, stiff legs or sore hands commanded us to quit.
And we loved it.
On your trip to Las Vegas this spring, there's a place where you can recapture the magic of those rolling silver balls and whirling number reels: the Pinball Hall of Fame, located at 1610 East Tropicana Avenue, about midway between the Las Vegas Convention Center and McCarran Airport.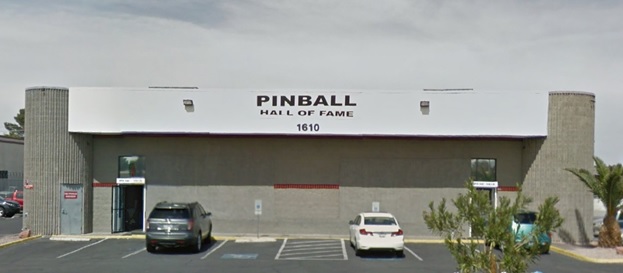 The nondescript appearance of the building belies what lies behind its concrete walls: over 400 pinball machines from the 1950s to the present, complemented by classic early video games and other selected amusement machines.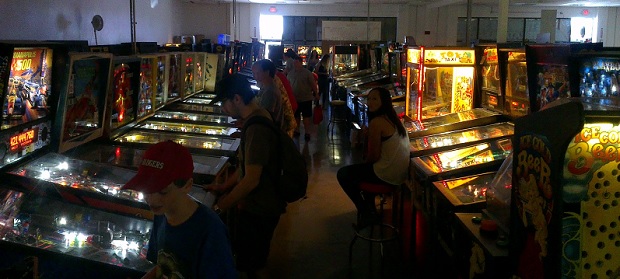 Stepping inside immediately transports you to an earlier, electro-mechanical time. The snapping of relays, ringing of bells, hum of solenoids and glow of colored lights makes you instantly aware that you've entered a different dimension.
The machines are all playable, meticulously maintained by a staff of volunteers headed by founder Tim Arnold (a former amusements operator in Chicago), and the profits are given to the Salvation Army. You'll find classic tables such as Fireball and Pinball Wizard, obscure one-offs like Impacto (a product of Franco-era Spain), and even early video games like Defender and Dig Dug.
Along with vintage pins, the row of machines along the front of the complex is reserved for 30+ of the latest brand-new machines; you can get your fix of old goldies, then play the newest hyper-speed tables as well.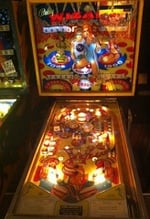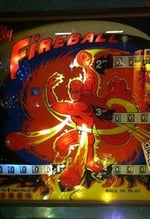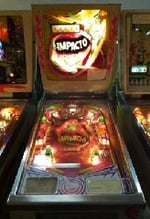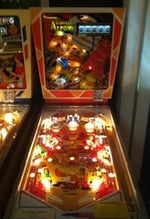 If you come, be sure and bring some cash; a $10 roll of quarters can last you an hour, or all night (depending upon just how much of a wizard you are). It's likely the most fun for the least amount of money that you can find anywhere in Vegas — a wonderful trip down memory lane, and your spend contributes to a worthy cause as well. Be sure to bring a friend or two; as the vintage machines themselves remind us, "It's More Fun To Compete!"
For more details, hours and directions, visit http://www.pinballhall.org/.
Topics: NAB Las Vegas
Subscribe

If you love broadcast audio, you'll love Direct Current! Get it delivered to your inbox weekly!