Studio Move in Four Days? No Problem!
When a relocation project involves splitting one console into thirds, building studio furniture that moves to accommodate the announcers, and completing the work in just four days, you know it's going to be an interesting story. The tale of Skala.FM's move does not disappoint.
The Vejle Denmark-based station started in 1997, and over the years has grown in size and popularity, with signals that now cover the entire country. Moving the studios from Kolding to Vejle, about 25 Km away, presented some interesting challenges for Andy Linton, Director of Total Broadcast Consultants Ltd. of Waterford, Ireland.
Total Broadcast is an Axia dealer, and Linton travels the world doing broadcast consulting and studio construction projects. "The Skala.fm move was a huge task," recalls Linton. "Not only were we moving the studios 25 Km, but the station has 60 transmitters around the country, so all the STL connections had to be done over as well. Not only that, but the station just purchased RCS Zetta automation software, and that was being installed at the same time everything else was going on. And just to make it all more fun, the project had to be completed in four days."
It was a small team that completed the Herculean task. Linton did the Axia install and certification,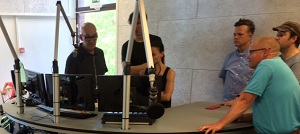 Skala.FM chief engineer Morten Pedersen assisted and installed the studio furniture. Two engineers from RCS were on site to install the Zetta automation software. A contract engineer spent most of his time going to different transmitter sites as the STL connections were changed over.
When Linton began on Monday, the studios were empty. A subcontractor had already pulled the IT cable between rooms. On Tuesday, the studio furniture arrived and was installed. Then it was time for Linton to get to work. Skala.FM brought their 24-channel Element console and two Radius consoles from the old studios. One of the first tasks was to break down the Element and reconfigure it.
Skala FM wanted the one 24-channel Element frame broken down into three separate 8-channel frames that were mounted around the horseshoe-shaped countertop. "They do a lot of recording off the phones and voice tracking while live," explains Linton. "So I set up a separate frame with modules that only go to record. The third frame can go to air if they wish. With the console broken down this way, they feel that there is less chance for operator error."
Skala.FM's reconfiguration demonstrates one of the great features of Element consoles - flexibility. Users can mix and match a variety of Element module types with enhanced features to suit a station's operational needs. For example, integrated controls for phones, codecs and intercoms, EQ modules designed to speed off-air production, even motorized faders for remote control or integration with any station's delivery system.
Skala.fm has three studios; the other two are equipped with the Radius consoles, and used for production and voice tracking. Linton set up one studio, and left the other for Pedersen to complete.
With the hardware part of the installation done, Linton set about configuring the consoles with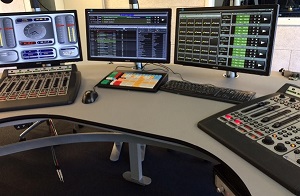 Pathfinder routing control. That took about a day. With Pathfinder, Linton was able to create some extremely sophisticated routing functions. He could define automated switching events, construct custom software control panels, change between presets manually, on a daypart schedule, or via an external trigger. Pathfinder's advanced features also include the ability to sense silence at a particular audio port and patch around it automatically — and even send the engineer an e-mail notification.
Linton explains that Axia's Livewire infrastructure is what makes this type of installation possible in such a short time frame. "With analog or TDM systems, it would simply be chaos. Creating the physical infrastructure of multi-conductor cables and punch blocks would take weeks, and you still wouldn't have the flexibility you get with Livewire."
After a very intense four days, success. "Of course we did it. The Axia installation was a breeze as usual," adds Linton. An initial certification of Axia and RCS gear showed everything working together and flawlessly from day one. Happy Skala.FM staffers were broadcasting from their new digs the following day.
The Zetta automation software from Axia partner RCS provides Skala.FM with some powerful options for spot management. With a signal that covers Denmark through 60 FM transmitters and audio streams, Skala.FM needed a way to localize commercials. Zetta automation is the solution. When the station goes to a commercial break, Zetta sends 13 different commercials, each to a different part of the country. It also handles the logging and administrative functions.
Another unique feature of Skala.FM is the studio furniture. As the move was being planned, engineer Pedersen envisioned something completely different than the old studios. "I looked at studio pictures of a Dutch station and RTL Radio in Berlin. They had banana-shaped countertops with equipment placement slightly curved. I liked that idea." Pedersen adds that the Element configuration in the old studios with 24 channels in one frame led to some user fatigue during long shifts.
The countertop design was tweaked and massaged, and evolved into more of a horseshoe. Since there are three hosts for the morning show, Pedersen gave each their own desk facing the main horseshoe.
With the design finalized, the next step was construction. In Denmark, that has some interesting twists, as Pedersen explains. "Danish law states that if you sit at the workplace for more than an hour, your work surface must be adjustable up and down to reduce strain and fatigue, and this law includes control surfaces at the radio station." That meant that the main horseshoe and each of the three desks had to be individually adjustable for height.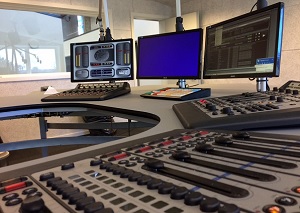 Pedersen selected Anker Cases of Boeletvej to do the construction. "They're a small quality-centered shop that specializes in broadcast furniture, but they also do other custom cabinetry projects and custom flight cases."
For many consultants and designers, such adjustable furniture solves an age-old problem in facility design – seated vs. stand-up operations. Advocates for stand-up operations say standing facilitates better posture, and therefore announcers give a better presentation. Those who prefer to sit often have bad backs or say it doesn't really make any difference. Now it's a moot point.
Pedersen takes the long view of the recently completed project. "Our staff is really happy and able to work more efficiently in the new studios. In the end, it's so much easier to do better radio when you have great facilities."
Telos Alliance has led the audio industry's innovation in Broadcast Audio, Digital Mixing & Mastering, Audio Processors & Compression, Broadcast Mixing Consoles, Audio Interfaces, AoIP & VoIP for over three decades. The Telos Alliance family of products include Telos® Systems, Omnia® Audio, Axia® Audio, Linear Acoustic®, 25-Seven® Systems, Minnetonka™ Audio and Jünger Audio. Covering all ranges of Audio Applications for Radio & Television from Telos Infinity IP Intercom Systems, Jünger Audio AIXpressor Audio Processor, Omnia 11 Radio Processors, Axia Networked Quasar Broadcast Mixing Consoles and Linear Acoustic AMS Audio Quality Loudness Monitoring and 25-Seven TVC-15 Watermark Analyzer & Monitor. Telos Alliance offers audio solutions for any and every Radio, Television, Live Events, Podcast & Live Streaming Studio With Telos Alliance "Broadcast Without Limits."
Subscribe

If you love broadcast audio, you'll love Telos Alliance's newsletter. Get it delivered to your inbox by subscribing below!