Solomon Sings Axia's Praises
By Dave Sarkies on Aug 12, 2015 3:40:00 PM

After working with Axia Audio consoles for some time at a previous employer, engineer Solomon Bachman was thrilled when his new employer – KCBI in Dallas, where he is Chief Engineer – decided to make the switch to Axia for a recent studio build.
KCBI is a Contemporary Christian station located in downtown Dallas, and has been on the air since the 1976. The station is owned by First Dallas Media Inc., who owns three other stations in West Texas and Oklahoma as well, with all content produced at the Dallas facility.
Solomon says when he arrived in Dallas and KCBI about 18 months ago, there wasn't much in the way of Telos Alliance gear. "When I got here, the only thing was a Two x 12 phone system and a couple hybrids. We had PR&E consoles."
Solomon says the studio suffered from some out of date equipment, and really needed freshened up. "All of the gear was 10 years old or more – they really needed to be fresh and jump from analog to IP." Solomon had been happy with Axia, so when he talked to Tim Walker, Director of Engineering for KCBI, he told him,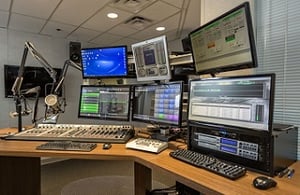 "Axia is the way to go." Tim and Solomon agreed to move forward with Axia console – and several consoles later, they couldn't be happier.
The studio build took a little time, but the process was smooth. According to Solomon, the great thing about this particular build was there wasn't a need to transfer a lot of equipment over from one site to another. "A lot of times you have to bring pieces and parts over, but we didn't have to this time; we were updating not only our consoles, but our audio router and automation systems." With completely new systems going into place, there wasn't much need to bring over extra accessories.
So what is it that Solomon loves about Axia? Among other things, easy setup. "Axia is a dream to set up. Instead of having to run wires back to a central system, you can drop nodes into a rack and have network cables going back to your switch. Just plug in the nodes and give them IP addresses and you're good to go." In addition to the Element and Radius consoles, Pathfinder has been a huge help in routing audio.
Although Solomon is an engineer, and he loves how much easier Axia has made his job, he appreciates that the multi-featured consoles have helped the on-air talent as well. "Our jocks now don't have to worry about setting up the board – it's all profile-based," he points out. KCBI morning show co-host Jeff Taylor couldn't agree more. "The Axia console gives me enough options – talkback, preview, etc. – but doesn't overwhelm me with lots of buttons, faders and switches that I don't need," says Jeff.
The staff has also found it so much simpler to do interviews or create content across studios, with the ability to pull up audio sources or perform tasks from anywhere in the facility.
While the ease of use is a huge bonus, it's also been beneficial to have the expertise of Telos Alliance Support to rely on. Solomon has worked extensively with Axia Audio Support Engineer Jeff McGinley, adding that Jeff's breadth of knowledge has been very valuable when learning the console's features.
Clearly, Solomon is a fan – even owning up to the phrase 'fan boy' when it comes to Axia! "I'd recommend Axia to anybody," he enthuses. We think that sums it up pretty succinctly!
Topics: Axia Audio
Subscribe

If you love broadcast audio, you'll love Direct Current! Get it delivered to your inbox weekly!