POWER101 Goes Digital with Axia iQ & AoIP
Sean Martin may like to joke about holding the title of 'Head Tea Boy' at POWER101 in England's Exeter / Devon region, but as Director of Business Development for Talk Productions Ltd (POWER101's parent company), he's got his hands in just about everything at the area's coolest local broadcast station.
After dabbling in broadcasting for several years, Sean and a friend brainstormed the idea for Golden Oldies Hit Radio - POWER101 in a hotel bar one night. "A friend and I were talking about the "Radio Luxy Online" project that I have been running for several years. This project was based on the format of the late great 208 Radio Luxembourg. I found that when we did live shows from the bar on Radio Luxy it got a great response, from not only the bar, but also online." A station featuring the music of the '70s and '80s with local interaction was something that was missing from the local radio scene, so POWER101 was born.
Among Sean's myriad responsibilities at POWER101 is his role as one of the main presenters. He's also a bit of a tech guy, head of purchasing, and perhaps most important, station manager. So who better to approve any new gear the station might need? So when the station needed to upgrade from analog to digital, Sean did his homework, and after talking to their playout system supplier, the choice was simple. "We decided on the Axia iQ console; this was a great decision as the solution is highly compact, full of features, and really simple to operate and integrate into our setups. Livewire AoIP is fantastic and has reduced our cabling by 90%."
Sean says the ease of use has been a bonus for everything to do with day-to-day operation of the studio at POWER101. "Having the ability to access through the web interface to sort issues remotely has been a big plus. Once the initial profiles were created the clean, simplistic layout of the control surface made training of staff very quick and easy. Integration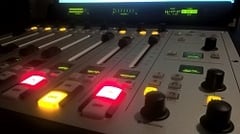 with Enco DAD systems was so simple," Sean adds, "it makes you wonder why we ever used analog!"
Expansion modules have already been ordered for the console, and Golden Oldies Hit Radio is also looking into gear from another Telos Alliance brand – Telos Systems – as they consider the VX Broadcast VoIP system for a new talk show in the works for 2016.
"I'm looking forward to a long relationship with Axia and The Telos Alliance for many years to come," Sean enthuses. "I have found in my experience that it's very reasonably priced, very well made and looks the part in a modern digital studio. Hopefully when we launch our service on DAB in 2016, Axia is going to give us the edge we are looking for over other commercial stations!"
Telos Alliance has led the audio industry's innovation in Broadcast Audio, Digital Mixing & Mastering, Audio Processors & Compression, Broadcast Mixing Consoles, Audio Interfaces, AoIP & VoIP for over three decades. The Telos Alliance family of products include Telos® Systems, Omnia® Audio, Axia® Audio, Linear Acoustic®, 25-Seven® Systems, Minnetonka™ Audio and Jünger Audio. Covering all ranges of Audio Applications for Radio & Television from Telos Infinity IP Intercom Systems, Jünger Audio AIXpressor Audio Processor, Omnia 11 Radio Processors, Axia Networked Quasar Broadcast Mixing Consoles and Linear Acoustic AMS Audio Quality Loudness Monitoring and 25-Seven TVC-15 Watermark Analyzer & Monitor. Telos Alliance offers audio solutions for any and every Radio, Television, Live Events, Podcast & Live Streaming Studio With Telos Alliance "Broadcast Without Limits."
Subscribe

If you love broadcast audio, you'll love Telos Alliance's newsletter. Get it delivered to your inbox by subscribing below!