Ted's Excellent Adventure
By Dave Sarkies on Jun 3, 2015 2:40:00 PM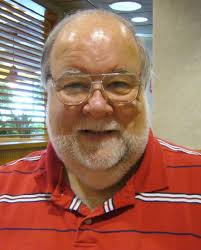 Legendary Cleveland broadcaster Ted Alexander has had quite the impressive career, both as an On-Air Personality and a Broadcast Engineer. Despite continuing to assist local broadcasters in a variety of capacities over the last several years – and hosting his own streaming audio oldies show – the bulk of the last 10 years of Ted's career have been spent here – as a Support Specialist for The Telos Alliance.
And while Ted plans to continue to dabble in all things broadcast in some form or other, he's decided to call it a career. As you can imagine, after an incredible 50+ years in the broadcast industry, Ted has a lot of stories to tell. Here Ted reflects on the last fifth of his amazing career – his 10 years with Telos – and hints at future plans in this interview with Telos Alliance Social Media & Content Coordinator Dave Sarkies.
Ted's Telosian Tale
Dave: You've been with Telos for 10 years now… As a broadcast engineer, I imagine it wasn't a terribly difficult transition, but was it hard transitioning away from the on-air portion of your career?
Ted: Since Telos is a broadcast equipment company, and I had used a lot of Telos equipment in my engineering days, the transition was seamless. I still do on-air work occasionally… voiceovers, industrial slide shows and videos, etc., so I haven't missed a step.
Dave: What have you taken away from your time here?
Ted: A chance to work with the brightest minds in the broadcast equipment world. Also the chance to interact with the whole world of broadcast engineering and engineers who keep your radio stations and networks on the air 24/7/365.
Thank You for Your Support
Dave: I'm sure you've received some interesting Support calls over the years. What's it been like taking calls and helping your fellow broadcasters in the field?
Ted: Most are interesting… They range from the most elementary of calls from new engineers to non-technical Program Directors, owners, and managers, to on-air talent, and so on. The most rewarding ones are those where the customer has the "Aha!" moment when we solve his or her problem.
Dave: What advice can you give to those calling in to Sup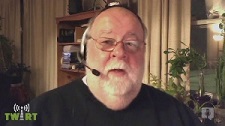 port?
Ted: Know what the device is that you are using, be ready to explain exactly what the device is doing or not doing, and know that not all problems can be solved with a single phone call or e-mail. The Telos Alliance makes exceptionally complex equipment and the caller or e-mailer needs to be our eyes and ears while in the field.
Dave: What advice can you give JP and Joe, our newbies in Support?
Ted: Our support personnel (as well as most of our tech people) have built up a huge amount of "tribal knowledge" regarding our products. Some solutions are completely unique. Keep track of all the information you can gather and be ready for the "unusual" question that may come at you on a daily basis.
Dave: What will you miss most about Telos? About the broadcast industry? What will you not miss so much?
Ted: At Telos, I will miss the people most of all. In reality, we are a company of geniuses. I will miss working on the cutting edge of broadcast technology. I am not completely leaving the broadcast industry since I will continue to do voiceover work, and may possibly be doing some radio network things. I will NOT miss the daily pressures of everything from city traffic to cranky customers to CRM!
Taking You on a Musical Time Warp!

Dave: Will you continue your 10,000 Oldies show?
Ted: I still have some 10,000 Oldies Show things to do, plus I have had some nibbles from several stations and one network/streamer about some future work.
Dave: What are you looking forward to in your retirement?
Ted: Slowing down, probably moving south out of the snow belt, and definitely being more active in amateur radio – from operating, to restoration of vintage equipment, to experimenting with antennas and new modes of communication – and most of all, spending more time with my life partner and families.
Dave: Thanks Ted!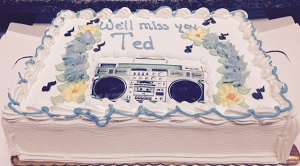 Happy Trails, Ted!
And we can't emphasize that enough! After 50+ years in broadcasting here in greater Cleveland, where our CEO grew up listening to you, we're happy you brought us along for the ride (a ride that included the items in Ted's Telos Top 10).
Best Wishes!
Read more about Ted's amazing career here; watch more on this episode of TWiRT.
Topics: The Telos Alliance
Subscribe

If you love broadcast audio, you'll love Direct Current! Get it delivered to your inbox weekly!