The Full Scope of Podcasting
By Tom Vernon on Jan 20, 2016 3:00:00 AM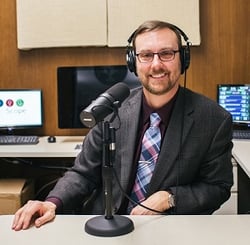 Mention 'podcasting' and most people conjure up images of individuals broadcasting from closet studios with makeshift equipment. That impression is changing as this medium is maturing and getting mainstreamed. More organizations are seeing the value of using podcasts as a form of content marketing to talk to customers one on one. As a result, many podcasts are taking on a more professional polish.
University of Utah Health Care is one of a growing number of health care providers to see the value of podcasts as part of their content marketing strategy. To address this need, they created The Scope - University of Utah Health Sciences Radio. The Scope's mission is to educate, engage in, and lead the conversation on the latest research and trends in medicine.
Senior Producer Scot Singpiel elaborates. "Podcasts are a very personal and intimate way of connecting directly with patients. Listening to physicians explain procedures helps to build relationships, and hopefully, some listeners will seek out these doctors for treatment."
Singpiel was fortunate enough to get in on the ground floor about two and a half years ago, as The Scope was being added to the existing print and video content marketing initiatives. He explains that there were a few evolutionary steps. "I envisioned starting a full-time webstream with health information, but soon realized that was too ambitious for a first step. Instead, we purchased a Zoom H6 Handy Recorder, and recorded podcasts in physician's offices. Eventually, we got our own space in the health sciences library, and began to plan studios." Singpiel purchased two Axia iQ8 consoles, a Telos iQ6 Six-Line Telco Gateway, and Z/IPStream X/2 Streaming Software, along with several Shure SM7B microphones.
For The Scope, iQ operates as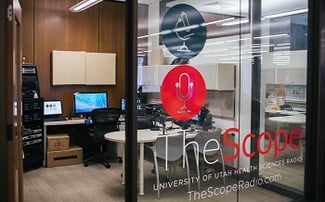 a standalone console, but can also connect to Axia networks. The iQ mixing surface plugs into the QOR.32 engine using a single cable. Setup couldn't be simpler: connect the iQ control surface to the QOR.32, add audio inputs using CAT-5, perform some fast Web-based configuration, and your iQ system is ready to broadcast. It really is that simple!
Singpiel adds that it was a combination of value, ease of installation and professionalism that led him to purchase Telos gear. "This equipment gives us the best value for the dollar hands down. Some other vendor's IP audio gear was way more complex than we needed for a lot more money."
He notes, "Installation only took two days, as compared to how long it would have taken with a conventional analog punch-block configuration. You just plug in, configure, and go. Also, I knew we would be in temporary studios until our permanent ones are built. When it's time to move, we just unplug, wheel it into the new location, and plug it all back in."
End-to-end connectivity with Livewire+ is another advantage that Singpiel likes. "Everything connects with one plug. We knew we wanted to use the Telos hybrid and Z/IPStream. The other brands would have required a lot more work to connect."
Finally, the new studios had to look professional. "We need to communicate a sense of professionalism to the physicians that we are interviewing. Looking like a guy broadcasting out of his basement with consumer equipment just won't do. The look and style of the Telos gear says we're serious and professional about what we're doing."
To date, The Scope Radio has produced over 1,000 five- to seven-minute podcasts for the general public. Topics include types of Bariatric surgery, helping your child with autism, and carpal tunnel treatment options.
Additionally, they produce Med School Mentor, a series of programs aimed at increasing the number of applications to University of Utah medical scho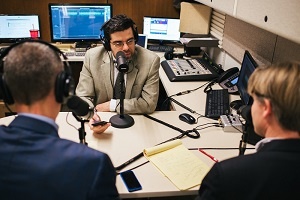 ol programs, and Health Care Insider, which tries to foster an understanding of America's high health care costs.
Besides producing the podcasts, Singpiel is also a talent scout. "Part of my work involves identifying good doctors for shows. They do something similar most of the time when explaining procedures to patients. I teach them how to put a bit of polish on it and be a good host."
Scope Radio is still growing, and Singpiel has the next few steps figured out. "Adding a studio in the hospital will enable us to expand the number and types of topics that we cover, as all our current hosts need to come over to the health sciences library. Within two years, I'd like to get the full-time streaming service up and running."
Topics: Podcasting
Subscribe

If you love broadcast audio, you'll love Telos Alliance's newsletter. Get it delivered to your inbox by subscribing below!