The Process was Long, and Anything but EZ
By Dave Sarkies on Aug 11, 2015 1:20:00 PM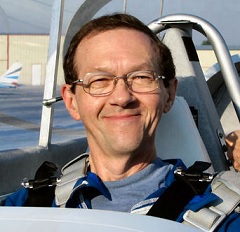 For George Stage, Telos Alliance Manager of Special Projects, flying has been a lifelong interest. "From the time I was a little kid, I always wanted to learn to fly," says George. "My uncle had a plane, and I built model planes."
Years later, when a work colleague won free flying lessons, George wound up with the certificate since the airport where the lessons were being offered wasn't convenient to the winner. Before long, George was headed for the clouds.
George took lessons for two years at Concord Airport east of Cleveland and received his pilot's license in 1979. With that hurdle crossed (or shall we say flown over?), George's passion for flying and interest in building model planes had planted a seed: he decided he wanted to build his own plane.
But he just didn't know where to start.
A visit to the Cleveland Air Show in 1984 changed all that. That's when George first learned about the Rutan Long EZ, a homebuilt aircraft designed by Rutan Aircraft Factory.
George did some research and decided this was the plane for him, and before long – in July 1985 – work would begin. Little did George realize that with several delays over the years due to financial and time constraints, it would be the start of a nearly three-decade long project.
Starting in the basement, then moving work into the garage to piece larger parts together, before finally moving work to a separate building after purchasing a 'Garage in a Box,' George used specialized jigs to assemble various pieces of the plane until it was finally ready for painting in 2008. And the painting was quite a chore in itself, taking several years, and requiring the painter (George) to wear a body suit due to toxic paint.

Finally, in 2011, the Long EZ was ready, and transported to the Geauga County Airport to be checked out by FAA inspectors, and George was issued a temporary permit such that it could be flown within a 25-mile radius of the airport. After 43 flight hours, a mechanic's license was issued. Then, on August 24, 2012, George made his first flight alone, bringing the 27-year process to fruition.
Despite the name of the plane, it was a long process – and anything but easy – but for George, it was a labor of love.
Topics: Airplanes
Subscribe

If you love broadcast audio, you'll love Direct Current! Get it delivered to your inbox weekly!