TWiRT 338 - The Standard that Stuck - with Richard Burden
By Kirk Harnack [TWiRT] on Feb 23, 2017 1:00:00 PM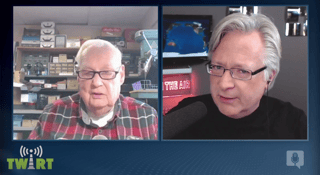 Cassette tapes. 8-Track. Digital Cassettes. FM-QUAD. AM Stereo. Reel-to-reel. Audio standards come and go, but Multiplex FM Stereo lives on and is nearly 60 years old! Richard Burden extensively tested our FM Stereo system when it was just a proposal. Dick joins me to chat about that and more on TWiRT!
Host:
Kirk Harnack, The Telos Alliance, Delta Radio, & South Seas Broadcasting
Guest:
Richard Burden, Principal - Burden Associates
Show Links:
Stereo Multiplexing for Dummies
Watch the Video!
Topics: Broadcast Engineering, audio, audio quality
Subscribe

If you love broadcast audio, you'll love Direct Current! Get it delivered to your inbox weekly!