Manufacturers Plug In at AES Plugfest
By Dave Sarkies on Sep 20, 2017 12:30:00 PM
The third annual Audio Engineering Society Plugfest was held recently in Houston, as manufacturers of broadcast and audio/video gear alike gathered to test their products for interoperability with other companies' offerings. Representing the Telos Alliance at this year's event was Support Engineer Jeff McGinley, who provided us with a review of the event, starting with a refresher as to just what exactly Plugfest is.
"At NAB and IBC there's an interoperability booth (such as the IP Showcase at this year's IBC) where customers can see various manufacturers' gear talking to one another, passing audio, and now, with SMPTE 2110, passing video as well, all working seamlessly together," Jeff explains. "To show your gear in these special booths at the big trade shows, the Plugfest events are held as interoperability workshops, where manufacturers get together to test their gear against that of other manufacturers, to ensure devices connect and communicate with each other."
Telos Alliance Support Engineer Jeff McGinley
Jeff notes more than 100 people representing over 60 manufacturers attended this year's event. Those participating include manufacturers from both inside and outside the broadcast industry.
"It's mainly audio and video manufacturers, but network switch manufacturers attend as well," Jeff notes. "Everyone is set up in the same racks, sitting side by side. Basically you rack your gear, you get it configured. There's one master spreadsheet that everyone is assigned with a specific IP address and a multicast range, and you basically work your way through the sheet to determine if you can connect to the other vendors' gear." The participants publish their multicast addresses so others can subscribe to the audio from the various pieces of equipment present.
To qualify to show your gear at the interoperability booth at the major trade shows, participants must successfully subscribe to seven and be subscribed to by seven manufacturers. At this year's Plugfest, three Telos Alliance devices successfully subscribed to over 60 other devices, while another 25 were successful in subscribing to ours.
Jeff details the results. "We showed the SDI xNode, a mixed-signal xNode, and an Axia RAQ console with a QOR.32 Integrated Console Engine, and I was able to subscribe to audio from audio vendors like Focusrite and Calrec, as well as video vendors like Panasonic. The great thing about our stuff is, it just works."
"The great thing about our stuff is, it just works."

—Jeff McGinley, Support Engineer, The Telos Alliance
Jeff says a nice bonus of the event is the opportunity to network with engineers from other audio companies. "It was great to get together with other manufacturers and meet people from around the industry. It was just support engineers and development engineers going back and forth about ideas and talking about how all our gear can play nicely with each other."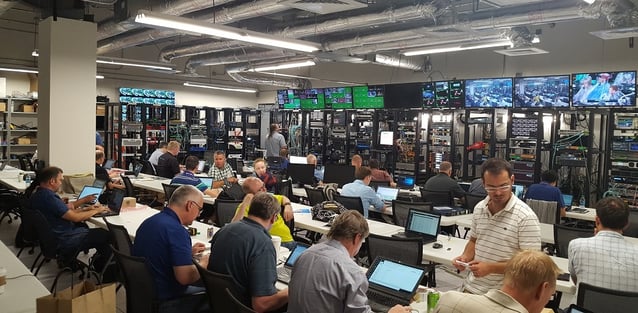 Plugest 2017 in Houston
In all, Plugfest 2017 was a success. Jeff points out that interoperability events like Plugfest aren't just for the sake of adding a product's or manufacturer's name to the mix of interoperable devices, but to provide a benefit to broadcasters and the larger broadcast industry.
"It's about all of us. It's about the community," Jeff says. "These events are important for that reason."
With AES67 and audio interoperability, the broadcast world wins.
Further Reading
For more about previous Plugfest events and AES67, check out these items:
Shay: Manufacturers Plugged In to AES67
Telos Alliance Leads the Way on AES67
Telos Alliance has led the audio industry's innovation in Broadcast Audio, Digital Mixing & Mastering, Audio Processors & Compression, Broadcast Mixing Consoles, Audio Interfaces, AoIP & VoIP for over three decades. The Telos Alliance family of products include Telos® Systems, Omnia® Audio, Axia® Audio, Linear Acoustic®, 25-Seven® Systems, Minnetonka™ Audio and Jünger Audio. Covering all ranges of Audio Applications for Radio & Television from Telos Infinity IP Intercom Systems, Jünger Audio AIXpressor Audio Processor, Omnia 11 Radio Processors, Axia Networked Quasar Broadcast Mixing Consoles and Linear Acoustic AMS Audio Quality Loudness Monitoring and 25-Seven TVC-15 Watermark Analyzer & Monitor. Telos Alliance offers audio solutions for any and every Radio, Television, Live Events, Podcast & Live Streaming Studio With Telos Alliance "Broadcast Without Limits."
Topics: AES67, aoip, interoperability
Subscribe

If you love broadcast audio, you'll love Telos Alliance's newsletter. Get it delivered to your inbox by subscribing below!